Step-by-step guide to your EMI Valuation Everything you need to complete a valuation for your EMI Options Scheme Meagan Snopkowski
Getting Started
Before we get started, here are the things you need to complete the valuation:
If you are trading, then your P&L summary from your last three years of accounts (if your last accounts are more than 9 months old, then also gather your recent management accounts)

A balance sheet from within the last month or couple months - if you've had a funding round then the balance sheet must be from after the round

Your cap table on SeedLegals MUST be updated with all of your funding rounds - please look at this article (How to set up and edit your cap table) if you need help with this
Step 1: Add an option pool
Your dashboard will look like the below.
Choose 'Create a new option pool' if you need to get approvals from shareholders/investors/board to create an option pool - we will provide you with those docs. Please see this article on how to create a new option pool: How to create an option pool.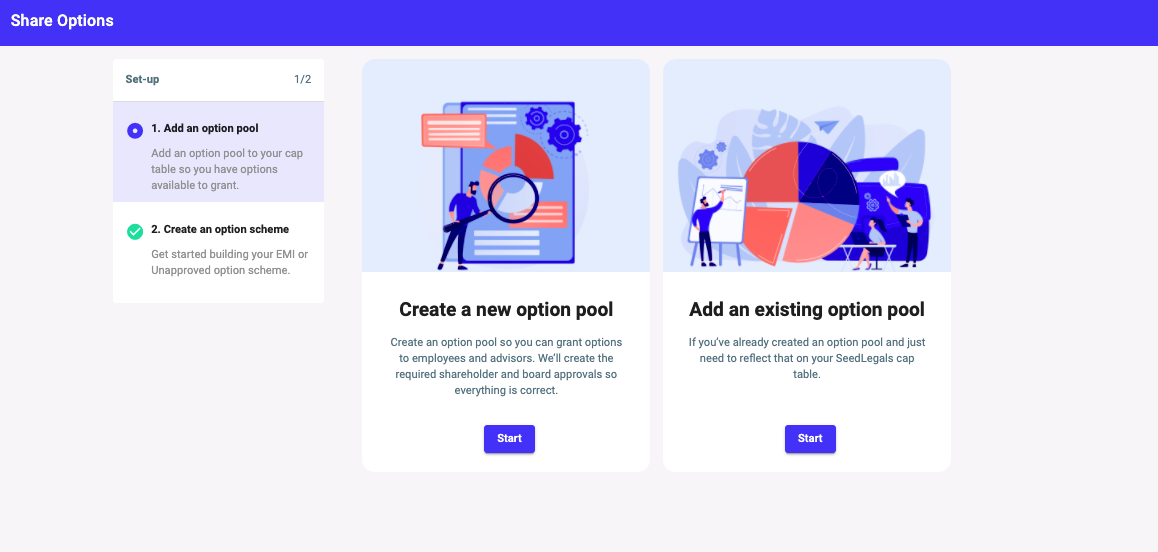 Choose 'Add an existing option pool' if you have already have the necessary shareholder and investor consents for the pool.
Step 2: Add an EMI scheme
If you haven't already, then please create a new EMI scheme, you will want to select B Ordinary (Non-Voting) as the share class. To do so click Add new share class under the drop down menu and select the Employee share class.
Set the details of the scheme on this page where it says Set Details. You should set these details first before proceeding. You can always come back and change the details anytime before the final step of adopting the scheme rules.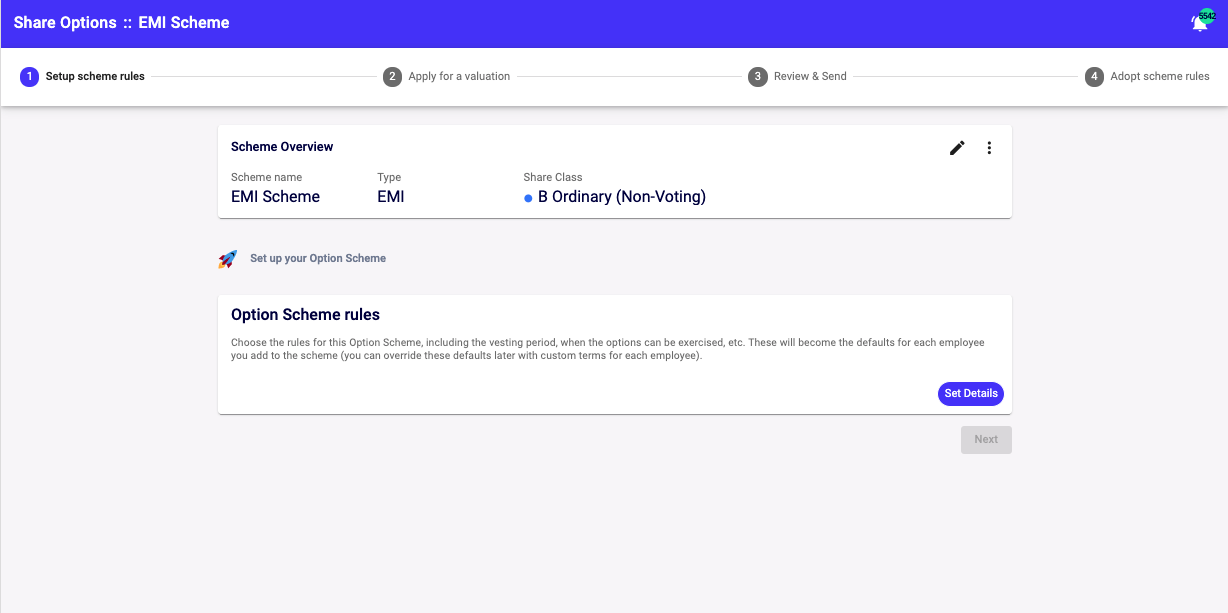 Please see this article to help you set up the scheme rules: Which option scheme is right for you?
Click Create after you set the rules.
Step 3: Pay for the valuation tool
Now is the time pay if you haven't already!
Step 4: Set details of the valuation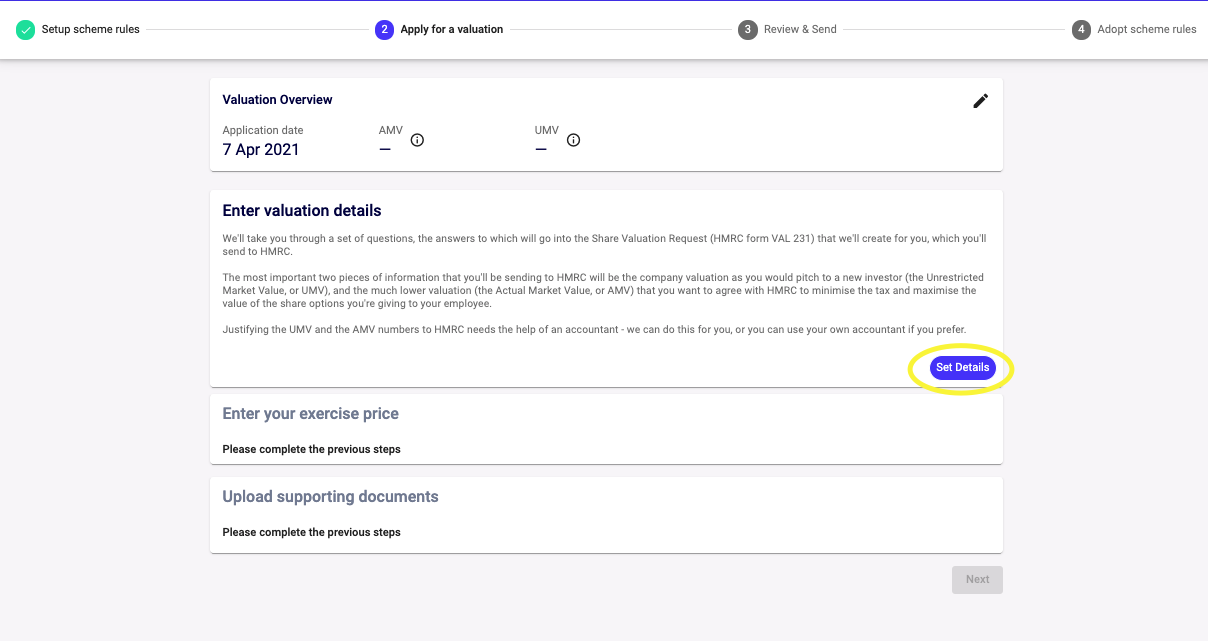 Company and contact details
Leave SCEC reference number blank if you do not know this

Enter the email address and phone number of a director
Valuation
Enter the accounts and balance sheet you gathered from the Getting Started section above
Share transactions
Enter the number of EMI options you are planning on granting

For the question, Have any shares been allotted since the date of the last company accounts?, please look at the date of your last accounts on Companies House and enter the details of any shares allotted since then. If you have never filed accounts on Companies House you should enter all the shares you have issued from Incorporation. You should enter this in the format, "X Ordinary shares were allotted on 1st January 2020 for a price per share of £7.45"

For the question, Have any shares in the company been bought or sold within the last year? this refers ONLY to share transfers - not funding rounds or share allotments. Again you should enter in the format, "X Ordinary shares were transferred on 1st January 2020 for a price per share of £7.45"
Cover Letter
no need to add anything special in the cover letter unless you feel like telling HMRC something specific about your application

you should display the cap table in the cover letter unless you are attaching your own separate version
Click Done!
Step 5: Enter your exercise price
You will see you are now given an AMV and UMV at the top of the page. Click Enter price to set your exercise price for the EMI options.
We recommend setting your exercise price to your AMV so that a taxable exercise does not occur. You are welcome to set it to nominal value, but just know that this will trigger a taxable exercise event.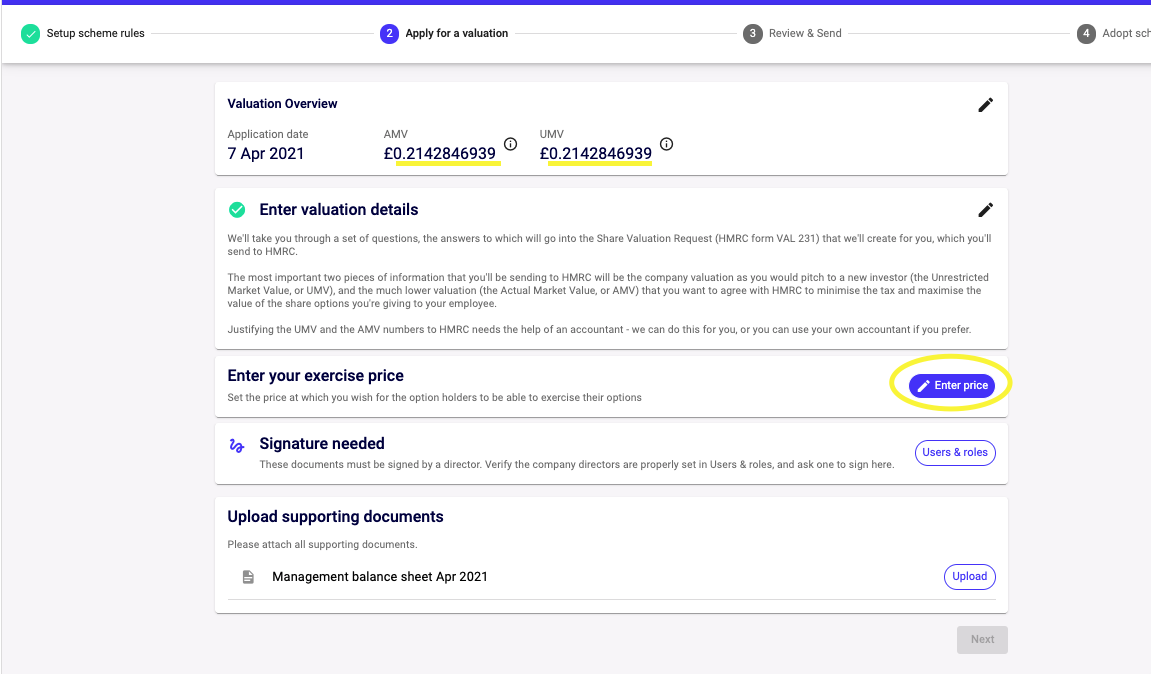 When you click Enter price, it will autofill with the AMV, if you are happy with that, click the check mark.
Step 6: Sign all documents
Please click the Sign button - this will automatically sign the VAL 231 form and cover letter (which you can view on the next page along with the valuation report).
The documents must be signed by a director of the company.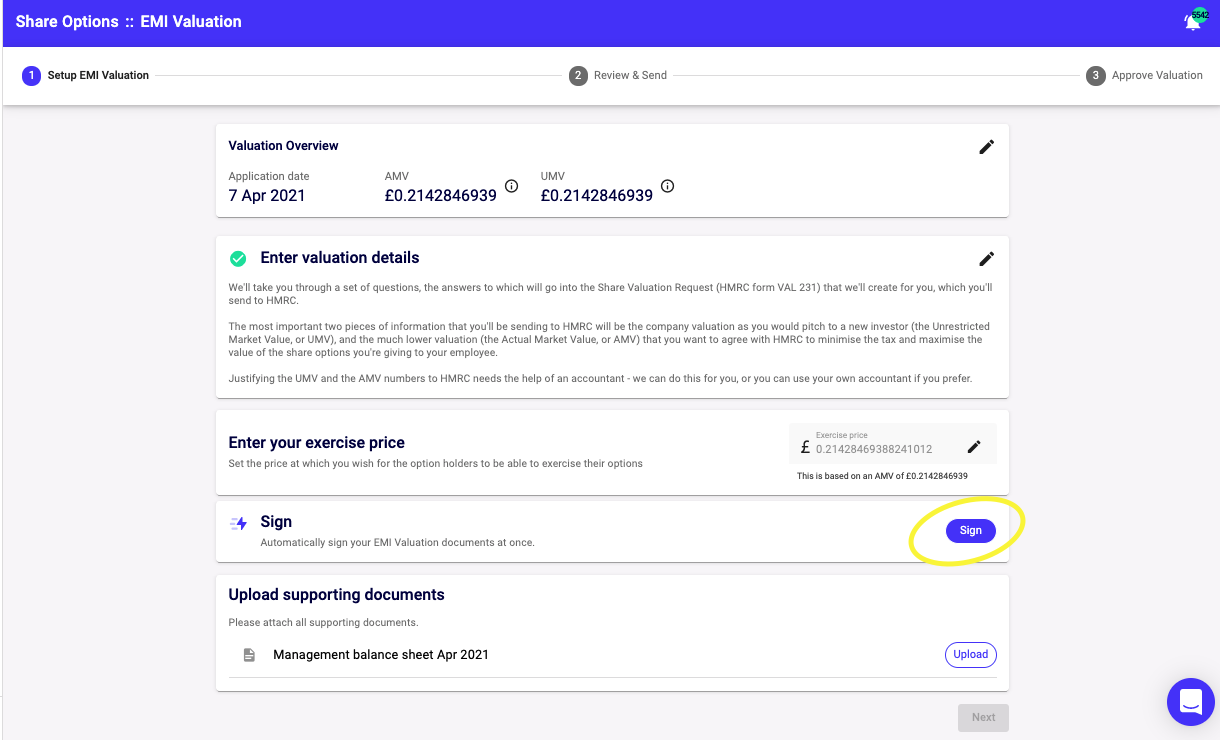 Step 7: Upload supporting documents so the team can review
Please upload your supporting documents. In this case here, I only need to upload my management balance sheet from April 2021.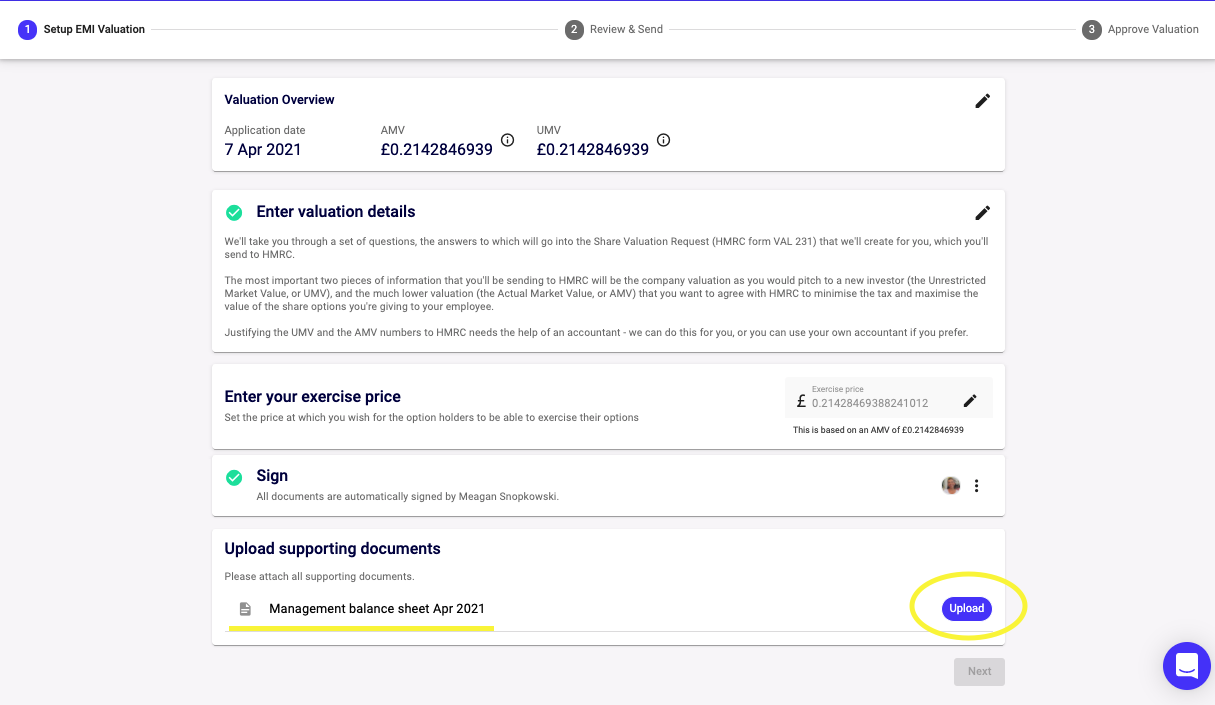 Then click Next.
Step 8: Valuation reviewed by the Options team
Click Review my application. This will draft a message to the options team through our live chat, all you need to do is send that and wait for us to get to work!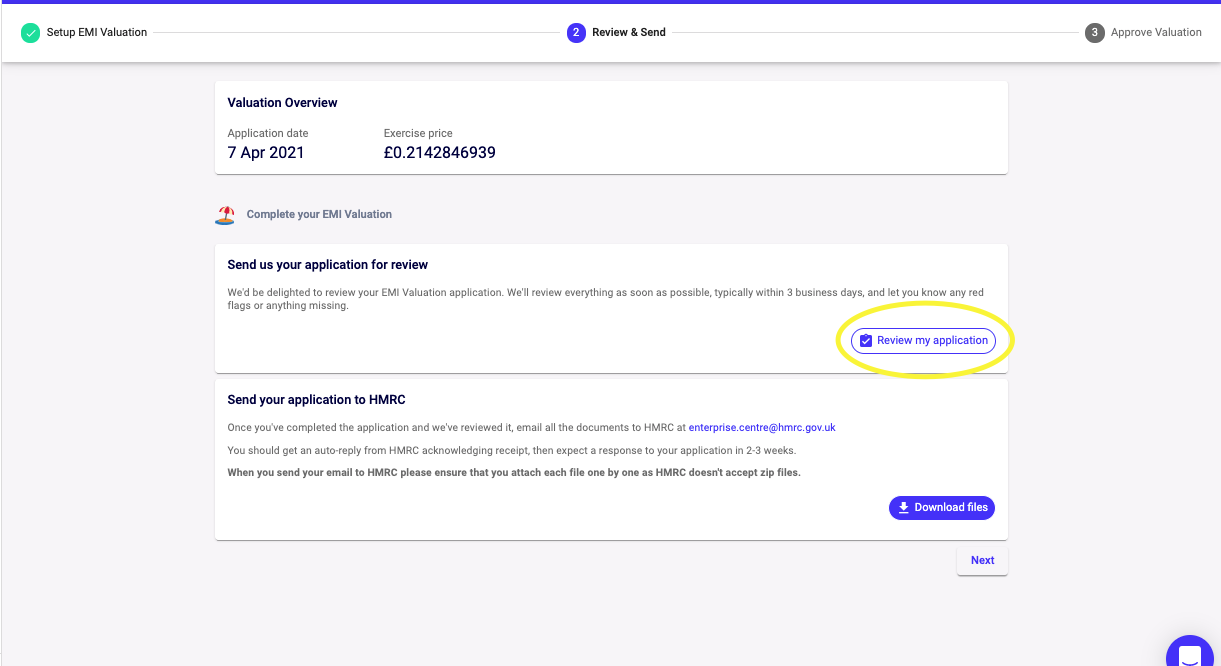 Step 9: Sending your valuation to HMRC
Once you get the go ahead from the team, email your application to HMRC.
Download your application bundle from this page:
And send your:
valuation report

VAL 231 form

cover letter

supporting documents
to HMRC at savexternal.mailbox@hmrc.gov.uk. Please also cc emi-options@seedlegals.com to keep the team is copied in all communication with HMRC. They will reply by email in about 4 weeks, so keep an eye out for it.
Did this answer your question?