Create an advisor agreement for mentors, advisors or coaches.
In a startup, having the right people around you and advice is crucial. When you want to engage more formally with your advisors it's important to have an Advisor Agreement in place.
When you create the Advisor Agreement you can specify your expectations of the advisor in terms of their role - for example to help with networking and introductions, as well as their responsibilities to you - such as an agreement to treat any information they acquire in the role as confidential.
Our Advisor Agreement lets you pay the advisor in cash, equity, or a combination of the two (equity only is the most common).
In the same way that you would never pay someone in cash for an entire year's worth of work, you would always pay by the month, if you give the advisor shares or share options, they should always receive these in regular tranches. This means that if the advisor leaves or is terminated early they don't get all their shares or options, only the fraction that they have earned up to that point. It also means that you are only ever issuing shares that have been paid for - in this case, they have been paid for by the advisor's services.
For example, if you come to an agreement with your advisor that they will work with you over the next three months, with a key deliverable set for each month, then you could specify that your advisor will receive 1/3 of their shares after each deliverable is met. This also means that if you decide to part ways before all the deliverables are met, the advisor will only be paid for the work they completed.
📌 Do you want to award options in return for the work done (Option Scheme)? Our contract may specify this and our team can assist you in setting up option pools and allocation plans. Contact us on the chat at the bottom right of your screen to discuss with our experts!
Our Advisor Agreement gives you a wide range of flexibility to choose the vesting provisions that work for the company and the advisor, also cover what to do in the event they leave or are terminated.
Here's how to create one on SeedLegals:
STEP 1: Create the Advisor Agreement
From the Agreements tab on the left of your screen, find the Advisor Agreement and click on 'Create'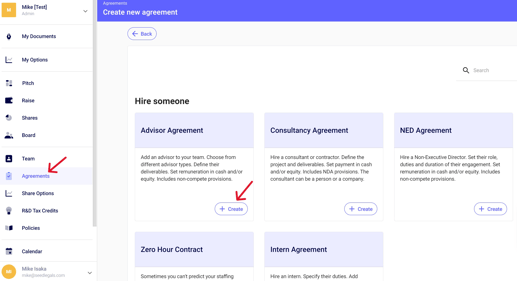 A window will appear asking you to select a recipient. You can either choose from one of the existing people on your account or click 'Add new recipient'

STEP 2: Edit the Terms
Fill in the key terms and click on Done when finished.




Want to add or change terms? No problem. As long as the document is not signed, the Key Terms are editable.
Just go to
My Documents
or
Agreements
, open your Advisor Agreement, then switch to
Terms
and click the
pencil icon
to edit them.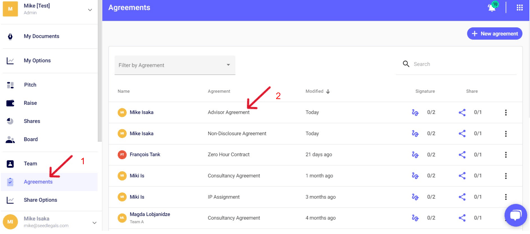 STEP 3: Sign the Advisor Agreement
Click on at the top right of the document to sign the Advisor Agreement on behalf of your company.
Then share it for signature to the recipient.
STEP 4: Share the Advisor Agreement for signature
Share the Advisor Agreement for signature to the recipient
Click the share icon in the top right, then click "Share with all" or
on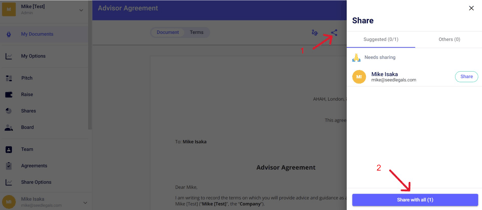 Once signed by all, we invite you to download it in PDF and save it on your side.
Do not hesitate to contact us from the chat at the bottom right of your screen if you have any questions.
Other helpful articles...
How do I modify or edit a document?