Founders needing to return unvested shares? Investors looking to sell their shares? SeedLegals makes share transfers a breeze
Looking to sell or transfer shares to a new owner? Follow these simple steps to do it straight from your SeedLegals dashboard.
If you're looking to give equity to a co-founder or team member, and your company has not raised funding yet, it might be easier to create new shares instead of transferring yours.
If you still want to transfer shares, you've come to the right place, SeedLegals automates everything, here's what to do:
1: Create a New Share Transfer
Select Shares in the left menu, then click the Share Transfers tab

Select New Share Transfer

The £290 share transfer cost is shown, but you can get started for free.

Only share transfers that need the documents below have a cost, if you just want to use the share transfer to update the cap table to reflect an existing transfer, or do a transfer that doesn't need any documents, it's completely free.
2: Enter the Transfer Details
Select the Seller (which needs to be an existing shareholder in the cap table)

Select the Buyer (or create them as a new user or company as needed)
3: Create your documents
SeedLegals will create all the needed documents for you:
Share Purchase Agreement

Preemption Notice (needed if other shareholders have preemption rights)

Deed of Adherence

Board Resolution

J30 Form
Note: If you've already completed documents off platform, and are only using the Share Transfer to update the cap table, skip to step 9.
4: Do you need to offer preemption to existing shareholders?
If you have investors with preemption rights, you will need to create a Pre-emption notice, and send this to each investor.
If your round was completed on SeedLegals, and you are unsure - reach out to us. We'd be happy to let you know whether you need this!
5: Create and Sign the Share Purchase Agreement

6: Create and Sign the Deed of Adherence
This document brings the new shareholder within the terms of your existing Shareholders Agreement. As this is a Deed, it will need to be witnessed, for more on this see here

7: Create your Board Resolution
This document is the official company approval of the transfer.



8: Create and Sign the J30
Note - the share transfer will be accounted for at the next Annual Confirmation Statement (CS01). There is no need to file any of these documents at this point in time.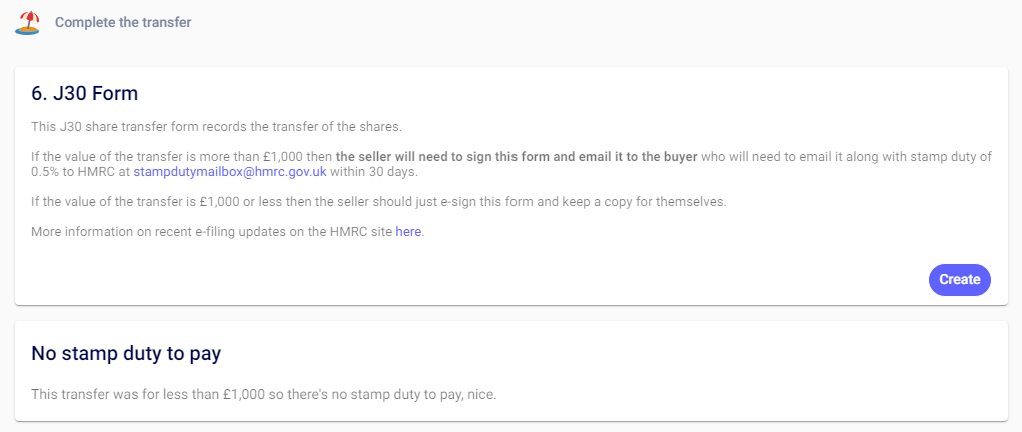 9: Hit "Approve share transfer"
This will apply the Share Transfer to your cap table and Share Register.
Make sure the documents above are all correct and signed prior to doing this!

10: Sign and send the new Share Certificates
The share transfer will annul the transferor's original share certificate.
11: Pay stamp duty, if needed
If the value of the share transfer was over £1000 then stamp duty is payable - see this HMRC article for more.
Head to Shares > Share Certificates to see the new and updated certificates.