After your round, here's the fast and easy way to give your investors their SEIS/EIS certificates for their tax returns
Before your funding round it's likely you have applied for and obtained Advance Assurance (if not, there's nothing to worry about). This provides investors with an assurance from HMRC that they will get their SEIS or EIS tax deductions later.
For your investors to actually claim SEIS or EIS you'll need to issue them with an SEIS3 or EIS3 certificate. Here's how it works:
Complete your funding round, take in SEIS and EIS investments.

As soon as the round closes, issue your investors their share certificates.

Then start your SEIS/EIS Compliance. For SEIS you can do this if you've either been trading for 4 months OR spent 70% of the SEIS investment. For EIS you must have been trading for a minimum of 4 months. Here is an explanation of what 'Trading' means for S-EIS purposes.

Applying for SEIS/EIS certificates is a 3 step process.

Once the certificates have been generated and sent to the Investors they will be able to file tax returns claiming their SEIS and EIS relief.
Should I speak to anyone to get started?
No need! Simply fill in some questions, and SeedLegals will generate every required SEIS1 and EIS1 form for you in an instant, click to e-sign each, download as PDFs, and email to HMRC.
Applying for SEIS/EIS Compliance step by step
Start off by heading to Funding > SEIS/EIS Compliance
Now it's time to fill in the details needed to complete the form, this should only take a few minutes.



Ensure the application period covers the date range where all the relevant S/EIS shares were issued.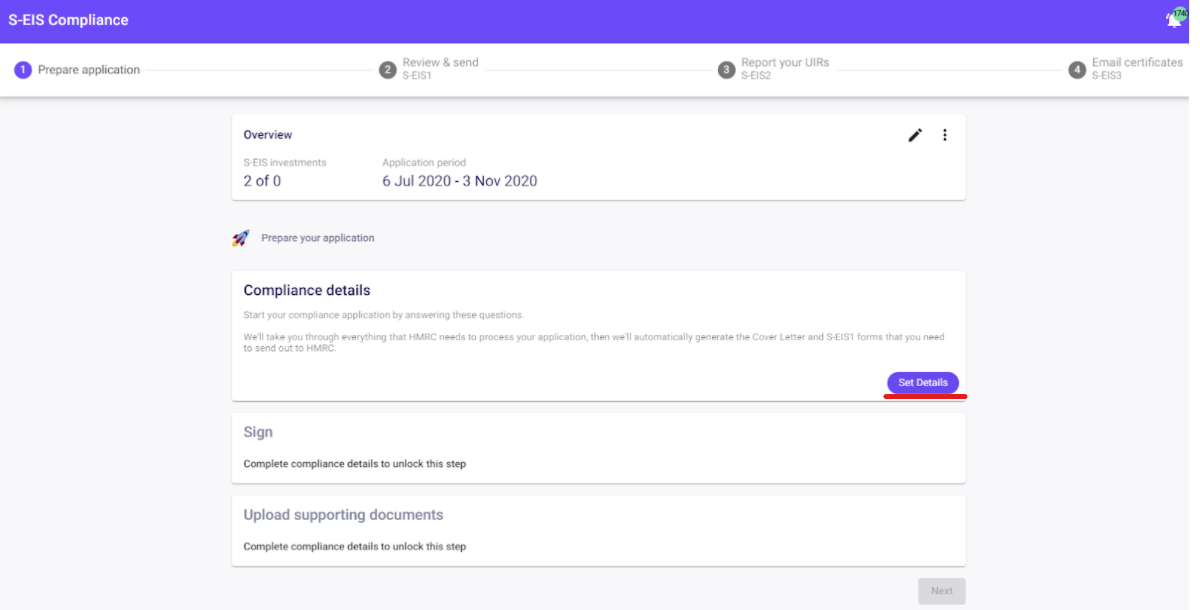 Your UTR number will be auto-populated from your saved Company Details, so just double-check this is still correct.

If you have Advance Assurance, great, select it below and add the date you received this from HMRC. If not, don't worry just be sure to attach a pitch deck and 3 years projected financials. You'll also need to include a brief summary of your 'qualifying trade' for SEIS/EIS. This is, or will be, the main income generating activity undertaken by the company.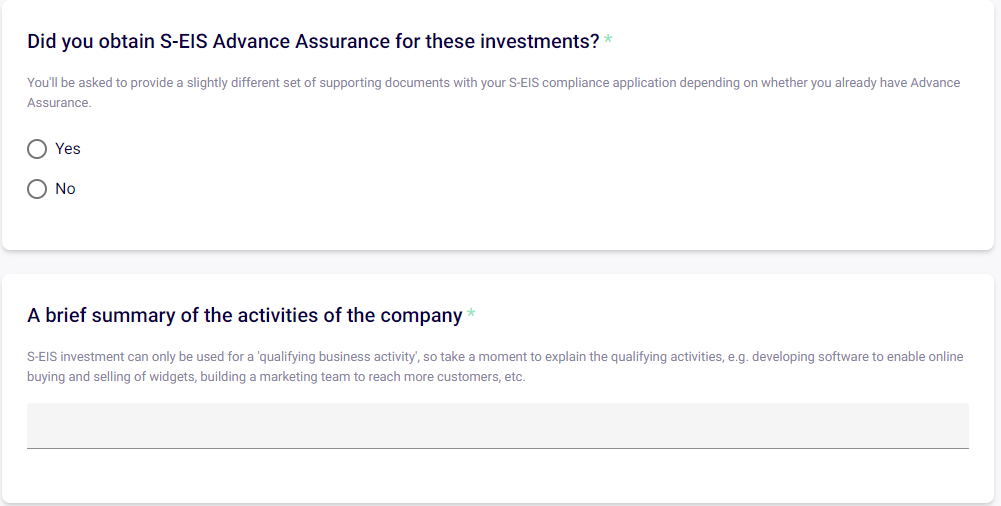 Select whether you're a single or a parent company. Note, SEIS investment must always be taken into a parent company. If you're a 'Parent Company' you'll be asked for details of all subsidiaries.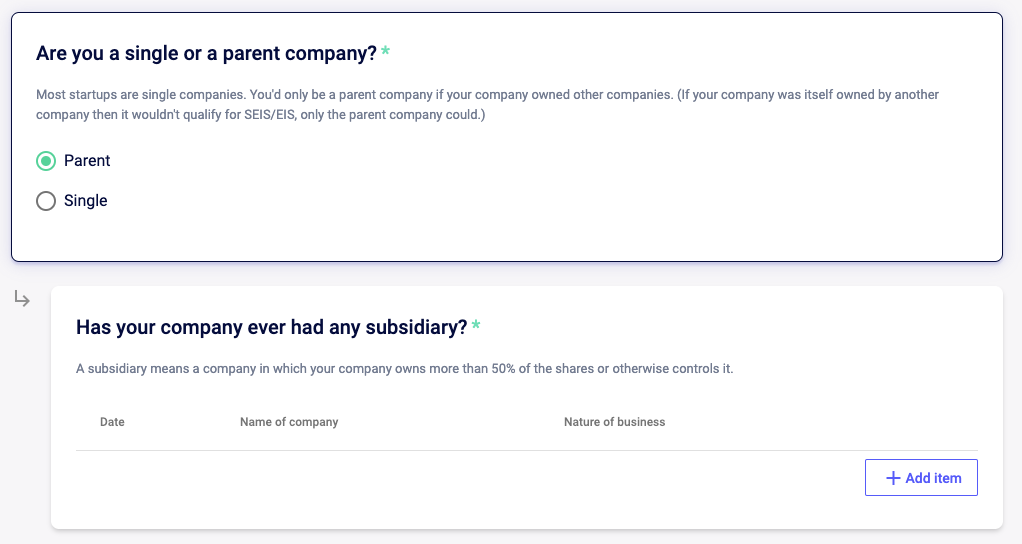 You'll also need to state the number of full-time employees at the date you issued the shares, this includes founders and directors.

Next, select whether the investment was entirely used for Research & Development or if it was spent on a mixture of things like marketing and sales. If you select R&D your trading date will be the date that you first started R&D. Under 'Details of the trade' give a brief explanation of what the company has been doing day-to-day.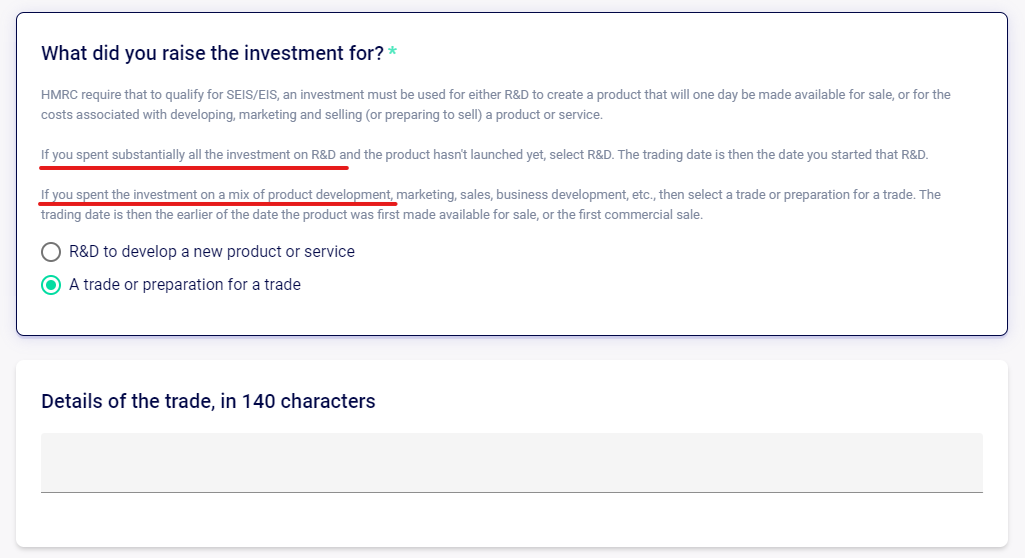 Most startups will be single companies carrying out the trade themselves, but if not then the trade will need to be carried out by a 90% owned subsidiary.

If the company has already started trading then hit 'yes' and enter in the date - remember for R&D this will be the date that you started that. For SEIS if you have not been trading for 4 months make sure to use the expenditures section to explain how you have spent 70% of the investment.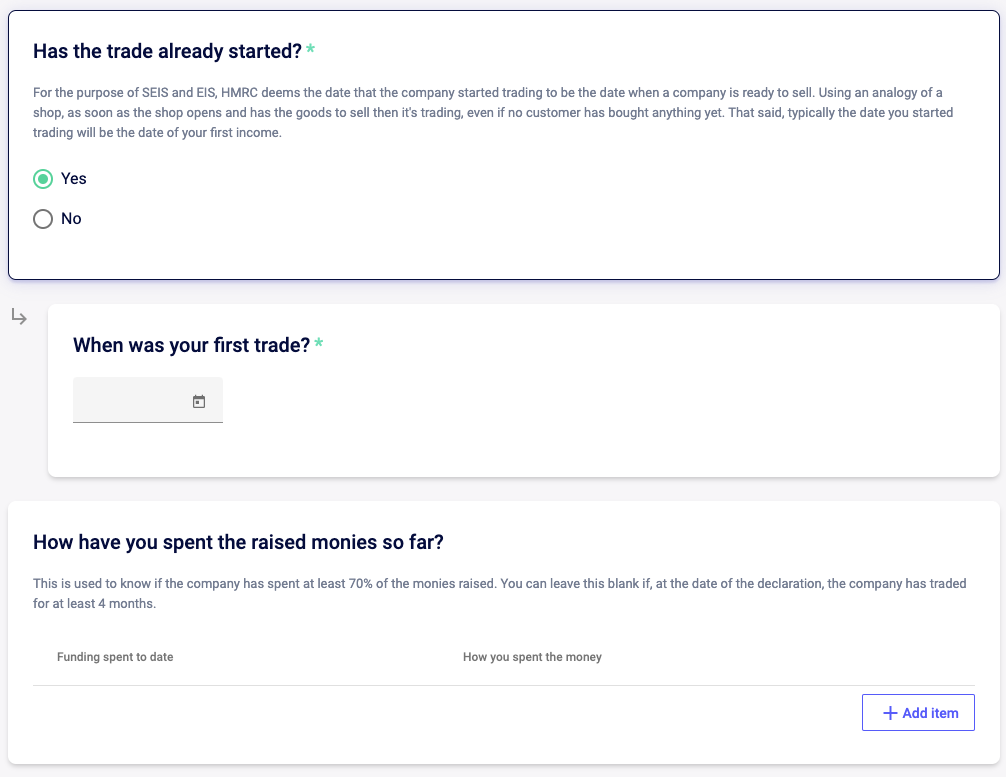 If a related company was carrying out this activity before then enter the details here.

The next section is on previous funding. Specifically De minimis aid and loans.
De minimis aid lowers the total amount of SEIS you're able to claim for. You'll need to give HMRC details of who the aid came from, what was received, and when it was received.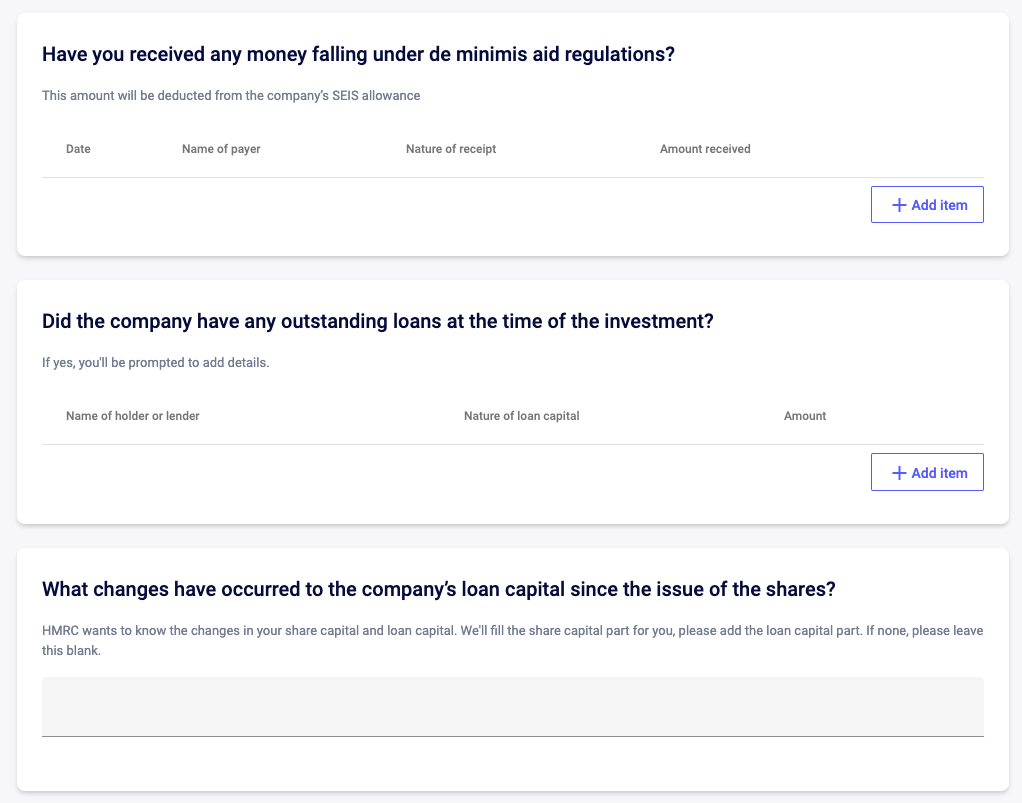 You also need to enter the details of any loans that were outstanding at the time the investment was made. And what changes (if any) have occurred in the period between the investment being received and the SEIS1 / EIS1 being sent to HMRC.
Next, enter in the value of the company's gross assets immediately before the share issue (excluding the investment) this must be less than 200K for SEIS and less than £15million for EIS.

Your business plan needs to explain how the company will use the investment for long term growth as well as demonstrating significant risk for the investor, so we've auto-populated this field for you. And If you have Advance Assurance HMRC will already be satisfied that you meet the Risk to Capital Condition.

The Knowledge Intensive Company status only applies to EIS. It is only relevant if the company is older than 7 years, has more than 250 employees, or if investors are looking to invest more than £1m within the same 12 months. So, only select this if you intend to rely on the extra benefits. Learn More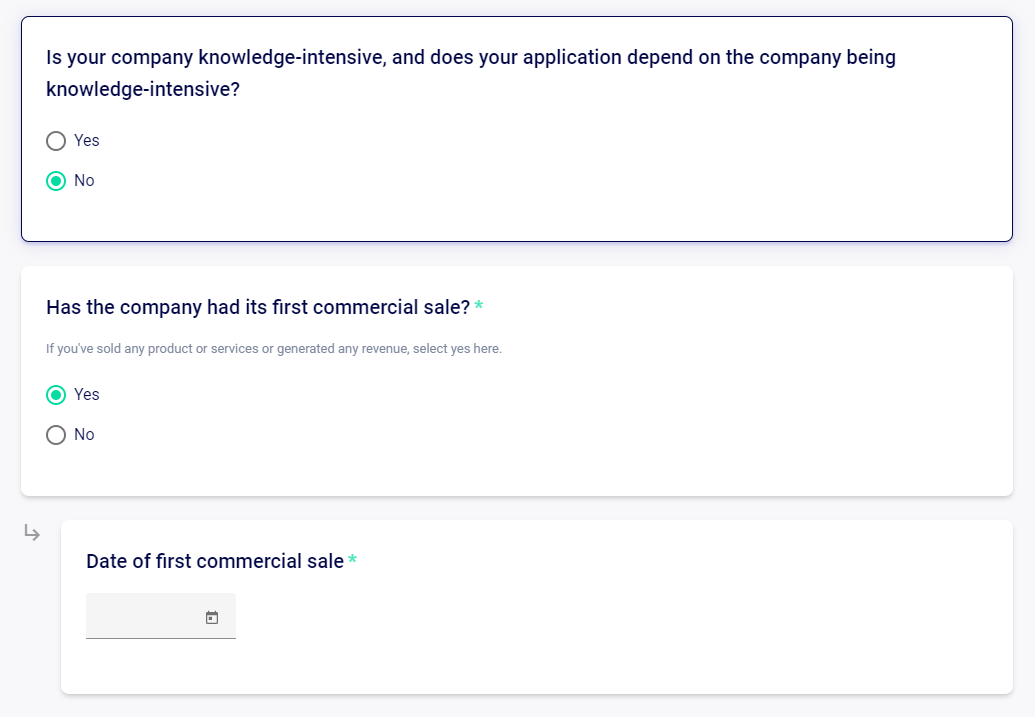 Most companies won't have redeemable shares or have repurchased any of their shares yet but if you have you will need to provide details.
It is also highly unlikely that your investors will have received payments or dividends from, but if they have then this is the section to give details of this.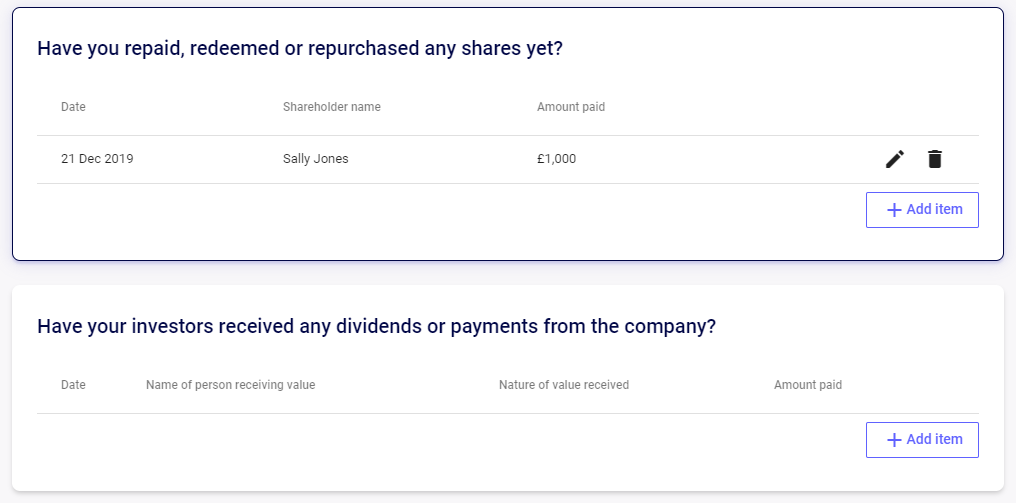 The next section is on supporting documents, if you have drawn up company accounts you should say yes to this question.
And as part of your funding round, it's likely your investor(s) would have signed a Shareholders Agreement and the company will have created a new Articles of Association. So select 'Yes' to Shareholders Agreement and 'No' to Model Articles. If you're unsure, please ask us for help using the live chat feature.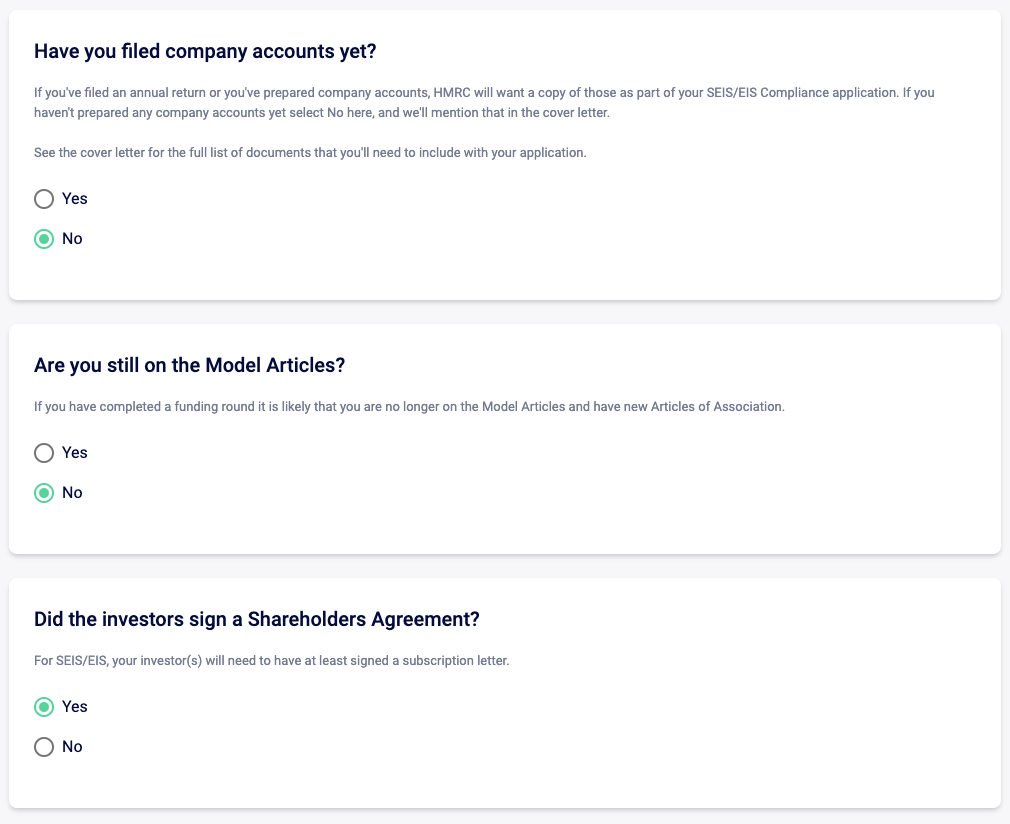 Your email address will automatically pull onto the documents, however, if you wish to add in additional contact details you can add them in here. And If you have anything else to add you can do that here. Hit 'done'.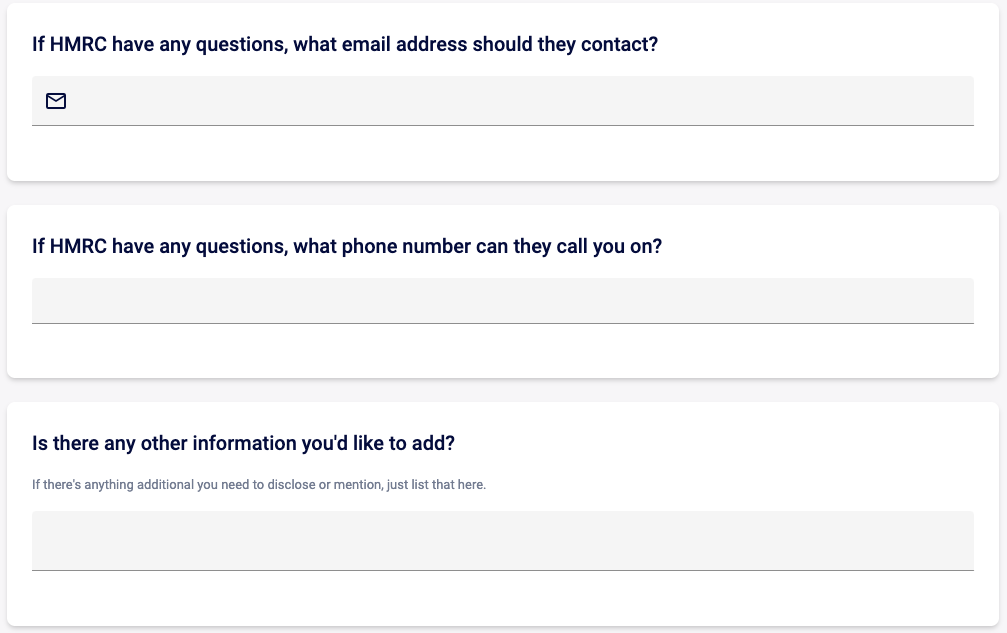 You will then be invited to sign the SEIS1 forms and Cover Letter. Only Directors of the Company have the option to sign these documents. If you are a Director of the Company, but the option to 'Sign' does not appear, please go to Settings > Users & Roles > Click the 3 dots next to your name (or the name of the Director who is signing the documents), and add 'Director' to their roles.
Please then upload all support documents to the platform. This will vary depending on the types of documents the Company has selected that it has.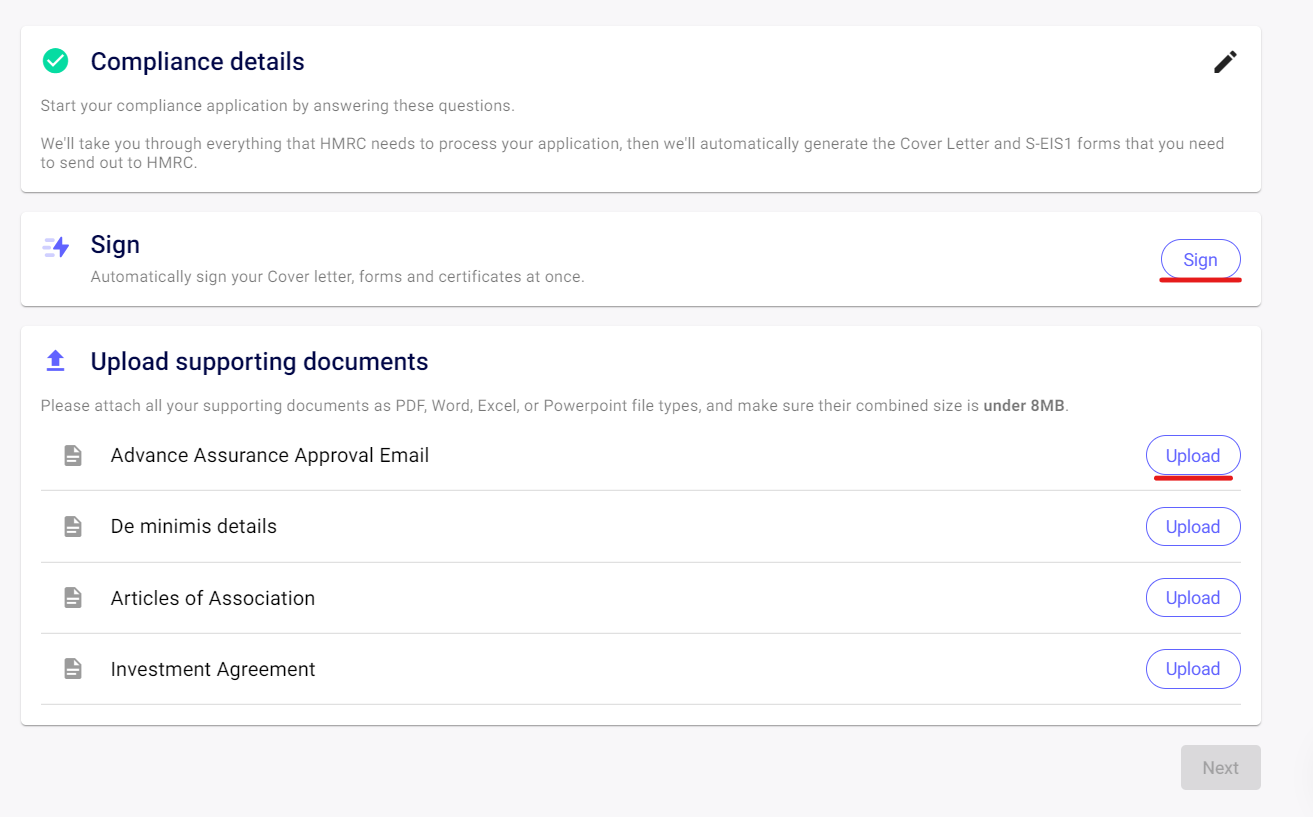 Once the documents have been signed and uploaded, you can then click 'Next' and your SEIS documents will be grouped together on the platform.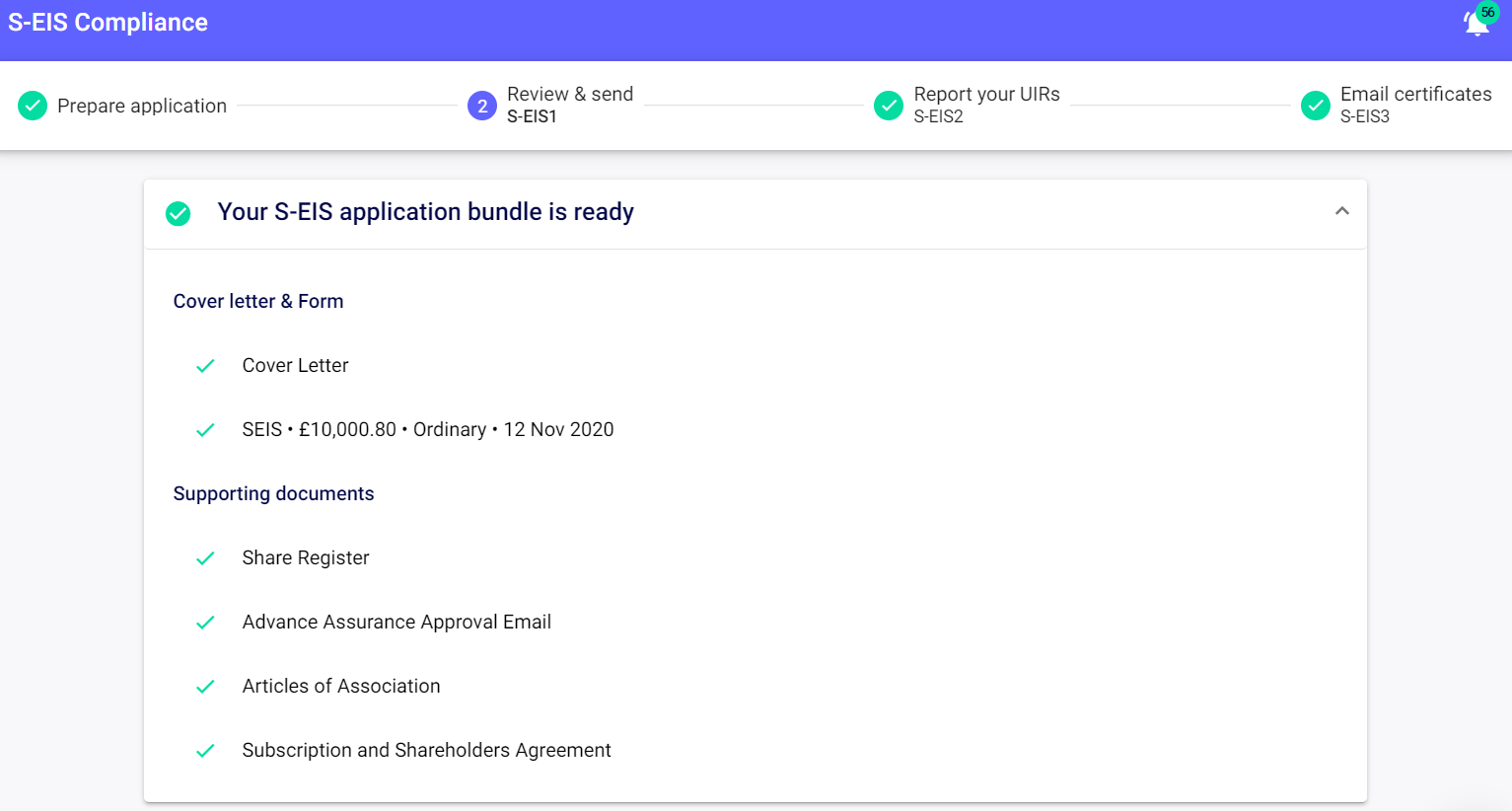 At this stage, you have the option to send all the documents to the SEIS team to review before sending them to HMRC. We will check that everything is correct against your Companies House filings and Cap Table.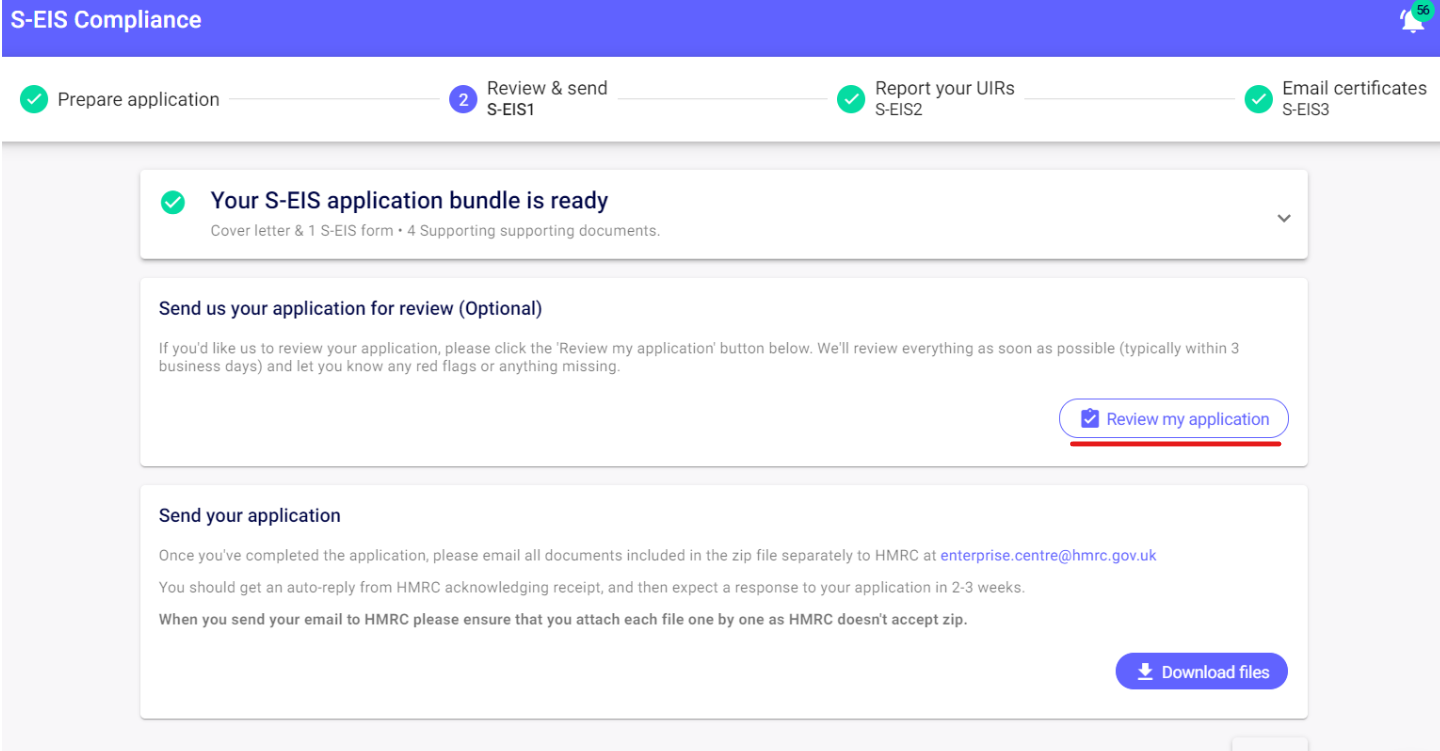 If not, you can send these documents directly to HMRC. Please ensure to attach each document separately when you email HMRC as they won't accept them in zip.

Once you've submitted your Compliance Statement and HMRC have approved this, they will send you a Unique Investment Reference Number (UIR number).
Come back to the Compliance Process (Funding > SEIS/EIS Compliance) and hit click on 'Report your UIRs'. Here, you can enter in the UIR number. If you've submitted multiple SEIS1/EIS1 forms you'll receive a UIR number for each - make sure to enter in the correct UIR for each investment.
You can then click Next and email the SEIS3 / EIS3 certificates directly to your investors through the platform. This is the document that investors will need to claim back their tax relief.

It is the investor's responsibility to claim back their tax relief once they do their tax returns - here's an article with their next steps.