Employee, Advisor & Consultancy Agreements
How to add freelancers, contractors and consultants to your teams
View all your team in one place, and see how much you're spending on salaries.
Do you have a mix of contractors and employees in your team? Previously you could see all your employees in Team, and all your contractors in Agreements.
Now you can add contractors to Team, so you can see your entire team - who's starting soon, who's no longer with the company - all in one place.
Your contractor's pay does not show in your Compensation Table.
How to add a contractor to a team
There are two ways to do this:
1. Add them directly in Team
Go to Team and click + Add team member



Select what type of team member you want to add: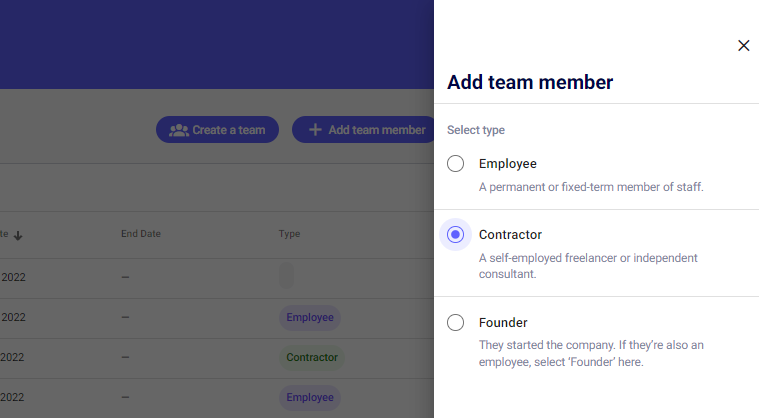 Hit Continue. Select the person from your list or add a new contractor. Then fill in a few details for the contractor and add them to a team. You can add them to an existing team or create a new team. That's it!

2. Create a Consultancy Agreement
Go to Agreements.
In Consultancy Agreement, click Create New Agreement and fill in the details.




Your new team member's details will pull through automatically to the Team section.
Any questions?
If this post didn't answer your question, hit the chat button to message us. We're always happy to help.