Congratulations! If you've received an email from us asking you to sign a document, it means there's an important agreement waiting for you to review.
In this article, we'll show you how this email has found its way to you, and provide a step-by-step guide on how to view and sign any documents shared with you.
I haven't received an email from SeedLegals - what do I do?
If you can't find any emails from us, try checking your Junk mail. If this doesn't work, then not to worry. Get in touch with the person who is sharing the document with you, as they will have the option to send a reminder email to you, and also please double check they have sent it to the correct email!
When they've done this, check your inbox again - the email you're looking for should be waiting for you! If not head to app.seedlegals.com/signup, create an account with the email they shared the agreement with, and the document should be there to review once you have signed in.
Step-by-step guide on how to sign your document
Create your account and log in.
Once you have received an email inviting you to review a document on SeedLegals, open it and click the View Document button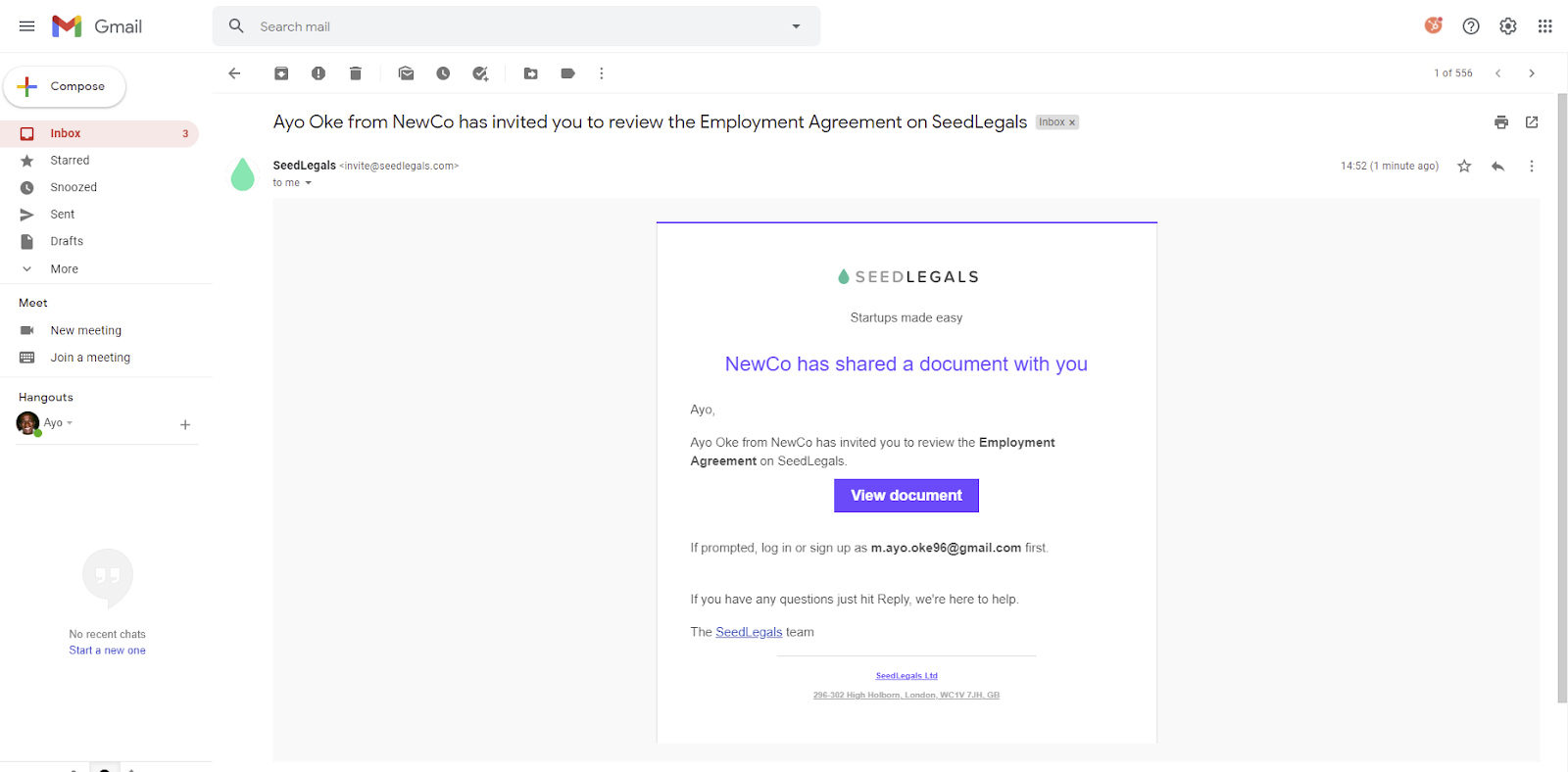 You'll be taken to our login page. If you have an account with us already, then that's great - please sign in. If not, you can sign up by clicking the Join for free button and using any email and password, or simply continue with your Gmail or LinkedIn account.

Please note - it's important you sign in with the same email address the document was shared with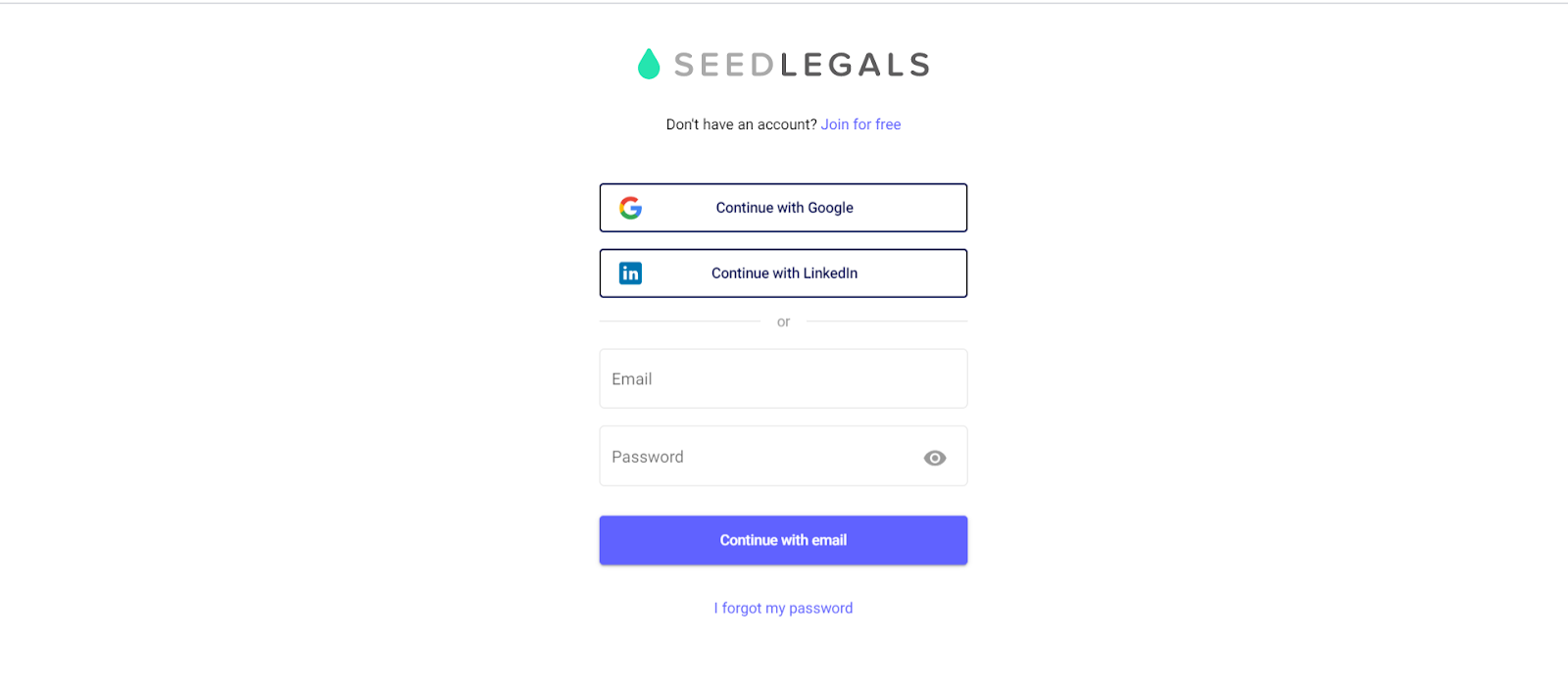 2. Reviewing the agreement and signing
Once you log in you can view the document. Make sure you read through the document and when you're ready to sign, click on the Sign button below: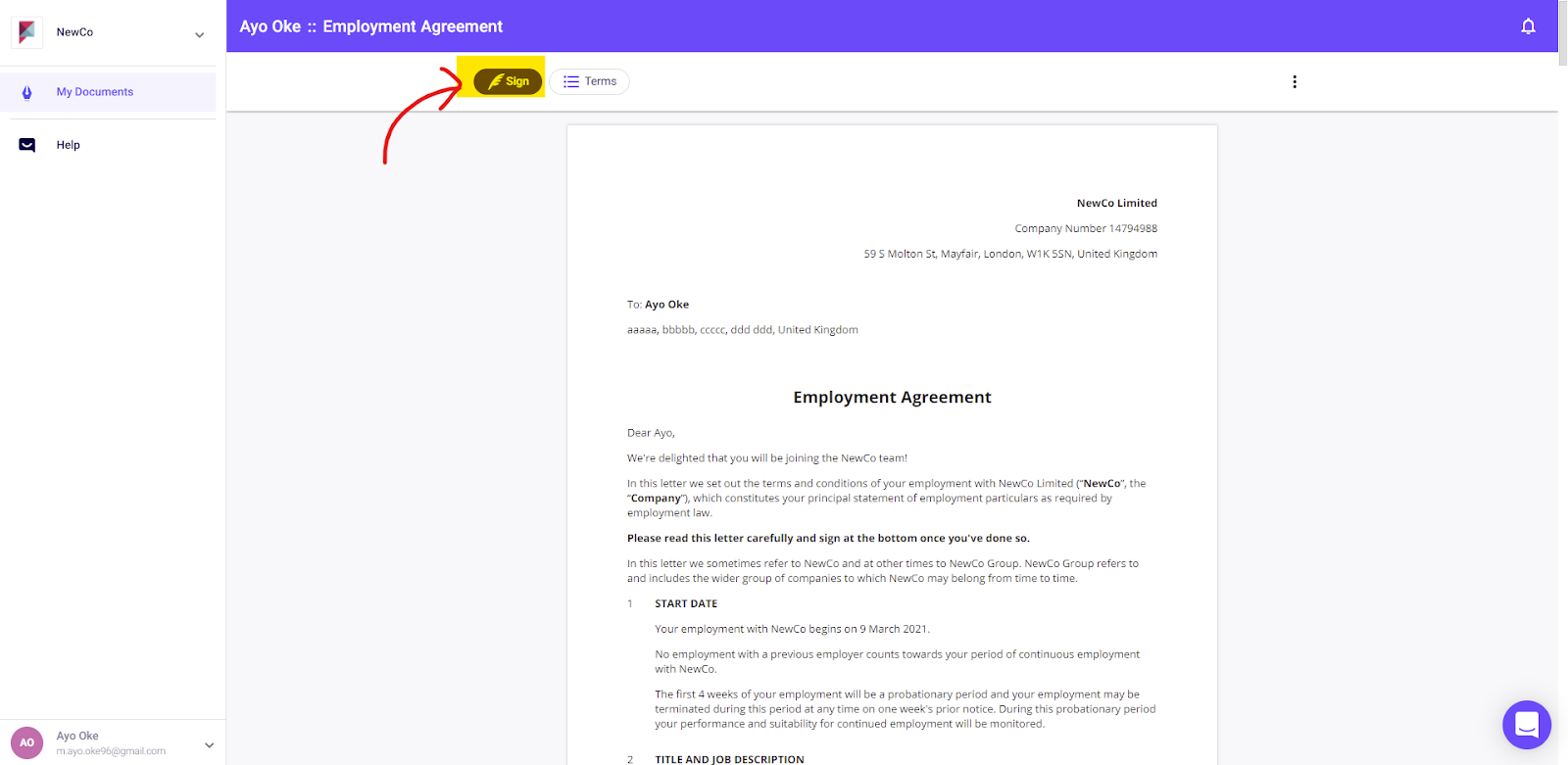 You'll be asked to create a signature using your mouse or trackpad. Once you've done this and clicked OK, the document will be signed!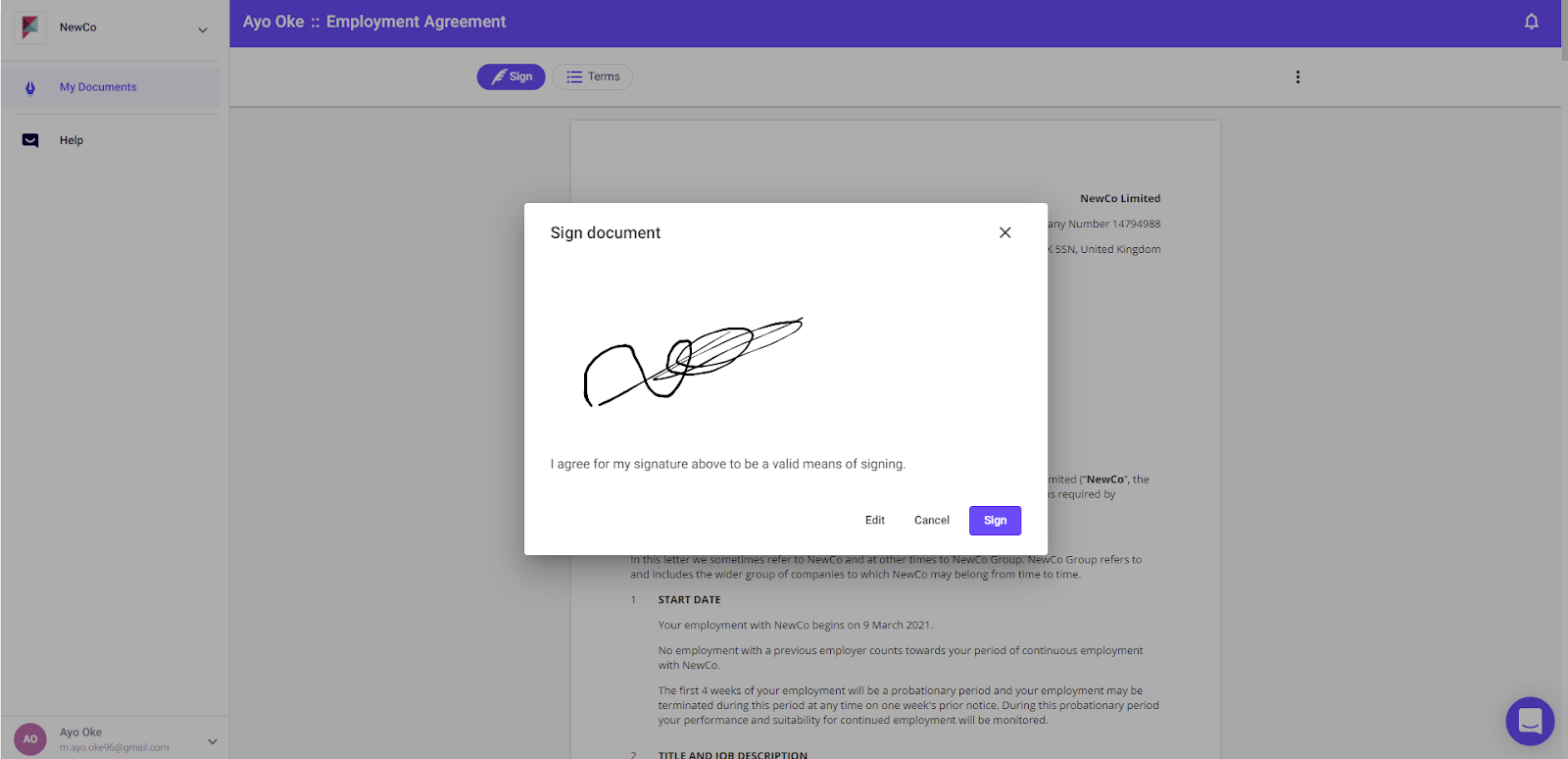 Can I keep a copy of the document for myself?
Yes - just go into the document, click on the three dots in the top right corner, and click Download to save it as a PDF.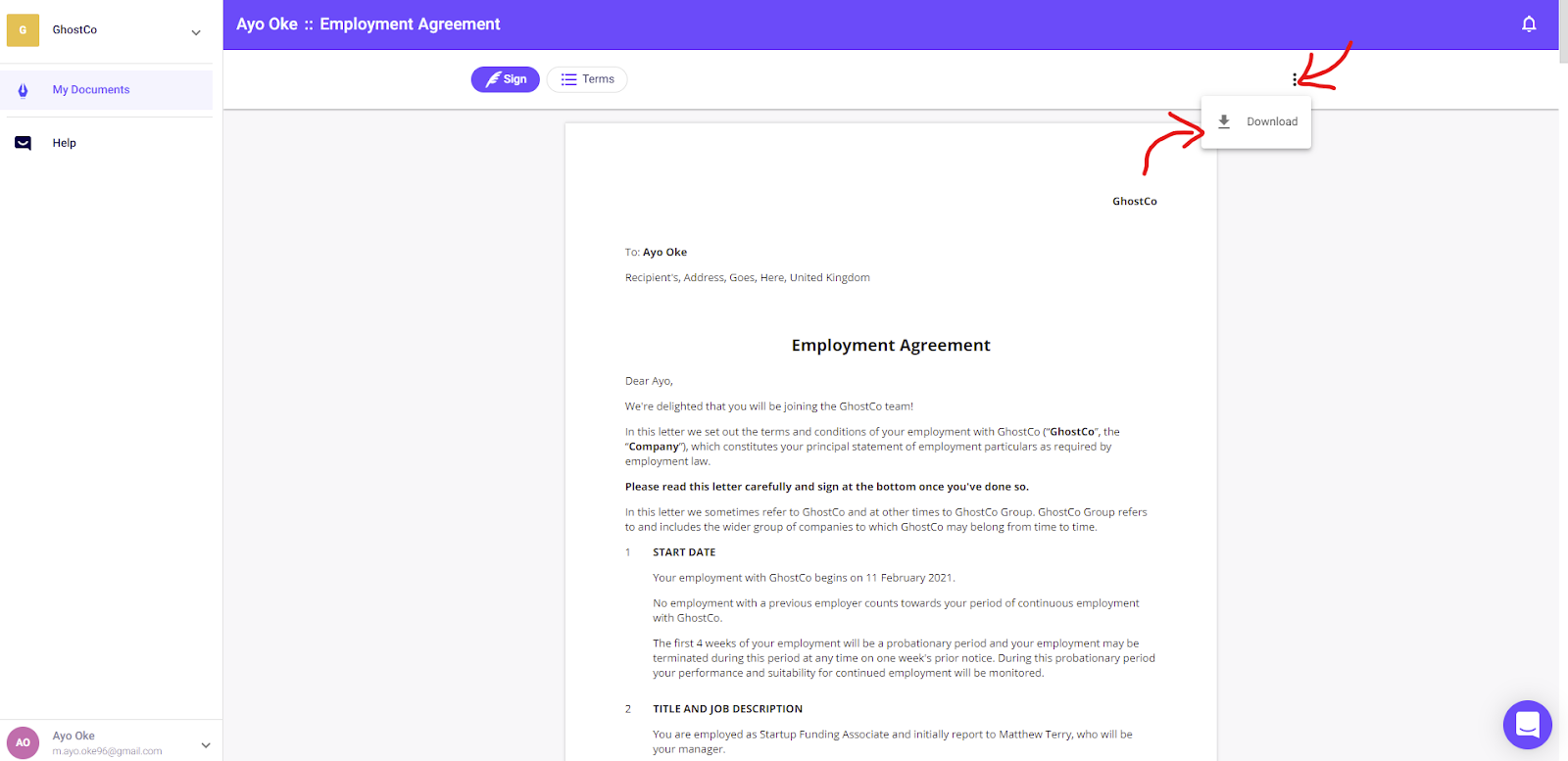 How to sign a document offline?
If you do want to sign a document offline first follow the steps to download it as a pdf, then print it out and sign!
Once you have signed please remember to share a signed copy of the document with the other party. And then please ask the person who shared the document with you to mark the agreement as signed offline.
To do this the Company admin can head to the document, click the Signatures button, click the three dots next to your name and mark as signed offline.

How to share the document with a witness?
Legally, the witness is meant to:
a) physically see the signatory sign the document
b) not be an 'interested party' to the transaction themselves
Not being an interested party means the witness should not benefit themselves one way or the other from the outcome of the agreement.
For example, an employee of your company should not be a witness for the other party, because if there's a dispute later the other party could look to exploit the fact that the witness was connected to your company and not independent.

For the same reason ideally a family member shouldn't be the witness for your signature, since they're an interested party by family ties.
Basically, just find any random person near you (I usually use the concierge in my building) and, after signing the document on your phone/laptop in front of them, click the Invite Witness button, then hand them your phone to enter their details and sign.
What if you don't want to sign the document in its current form?
You don't need to sign the document if you're not ready to do so. If you have any comments or changes you want to make, reach out to the person who created the document.
Once changes are made, these will update automatically - you'll just need to refresh the page.
Please note that once the document has been shared with you, you don't need to keep clicking on the link you received in the email - just head to app.seedlegals.com, go to My Documents and you will see it stored there.
How do I update my name and address so it pulls through into the document
Your name and address pulls through to the document from your account settings, please head to app.seedlegals.com/account to change this!
Alternatively click on your name in the bottom left and head to Profile.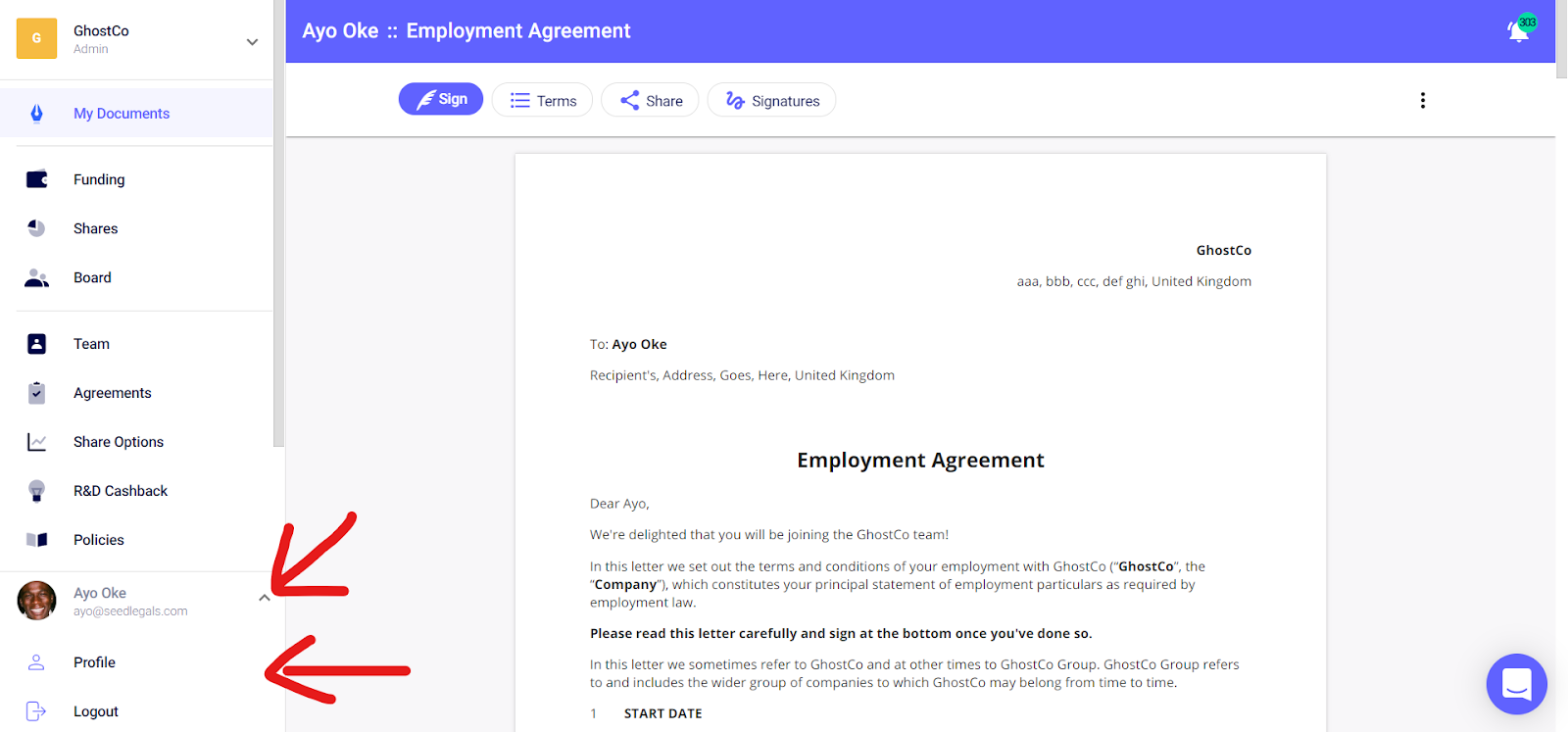 If you have any more questions on the process just drop us a note by clicking the chat bubble in the bottom right. We're always here to help!
For other useful articles, please see:
How do I change my email address?