It's important that you choose the correct contract for your employees, so what's the difference...
Usually, employers will issue an employment contract to their new employees. When identifying a new role, a lot of thought should be given to the type of contract that needs to be in place.
The employment contract itself is not a legal requirement when hiring someone - as of April 2020 UK Employment law states all employees must be issued with a 'written statement of employment particulars'. 'Written statement of employment particulars' is a document stating the main conditions of employment when a new employee commences employment. So, while it is not an employment contract the 'statement of employment particulars' can be written into an employment contract, and often is. GOV.UK have provided guidance of what a written statement should be made up of.
While the employment contract isn't therefore a legal requirement, most employers will still want to share a contract outlining the details of the job and expectations, as a formality to the employee they are hiring.
When considering the position give thought to whether you are wanting to recruit a permanent or temporary employee. This can help as a basis for the type of contract an employee should be placed on.
Often, giving lengthy contracts can be costly, lead to overstaffing and redundancy so forward thinking can benefit long term goals. At SeedLegals we recognise that growing start-ups often look for a variety of arrangements for their employees and works, and therefore have several different agreements that cover your company's different employment needs.
Permanent contracts
If you are looking to bring on the employee permanently, you should set them up on a permanent employment contract under the 'Team' section. Permanent contracts are subject to standard requirements as written in law and made up of express and implied terms.
Unlike other contracts, such as fixed term there is no date or trigger for termination specified, termination would require consideration of the terms set out in the agreement.
Please check out our guide on How to create an Employment Agreement.
Fixed term contracts
Fixed term employment contracts can be put in place when hiring workers hired on a temporary basis. This can also be set up under the 'Team' section following the steps above and then by specifying 'Fixed Term' under 'Duration and Right to Work':

A fixed term contract allows termination of employment on a specific date, completion of a certain task or event. If the contract ends on a fixed date, rather than completion of a task then the employer can not end the contract sooner. Alternative work would need to be found or redundancy would be the two appropriate options.
For the purpose of unfair dismissal, the Employment Rights Act 1996, allows the contract to automatically come to an end when at the end of the agreed fixed-term.
Part time contract
Part time workers are defined as those "who are paid wholly or in part by reference to the time they work and are not identifiable as a full-time worker" within The Part-Time Workers Regulations 2000. Within the act it states "There is no threshold of working hours that must be met to differentiate between full-time and part-time working. This depends on what the employer regards as full-time work".
Regardless of hours worked, part time staff have the same statutory rights as full time employees and should not be subjected to less favorable treatment. Employees can request a change in their working hours but only once they have worked for the company for 26 weeks.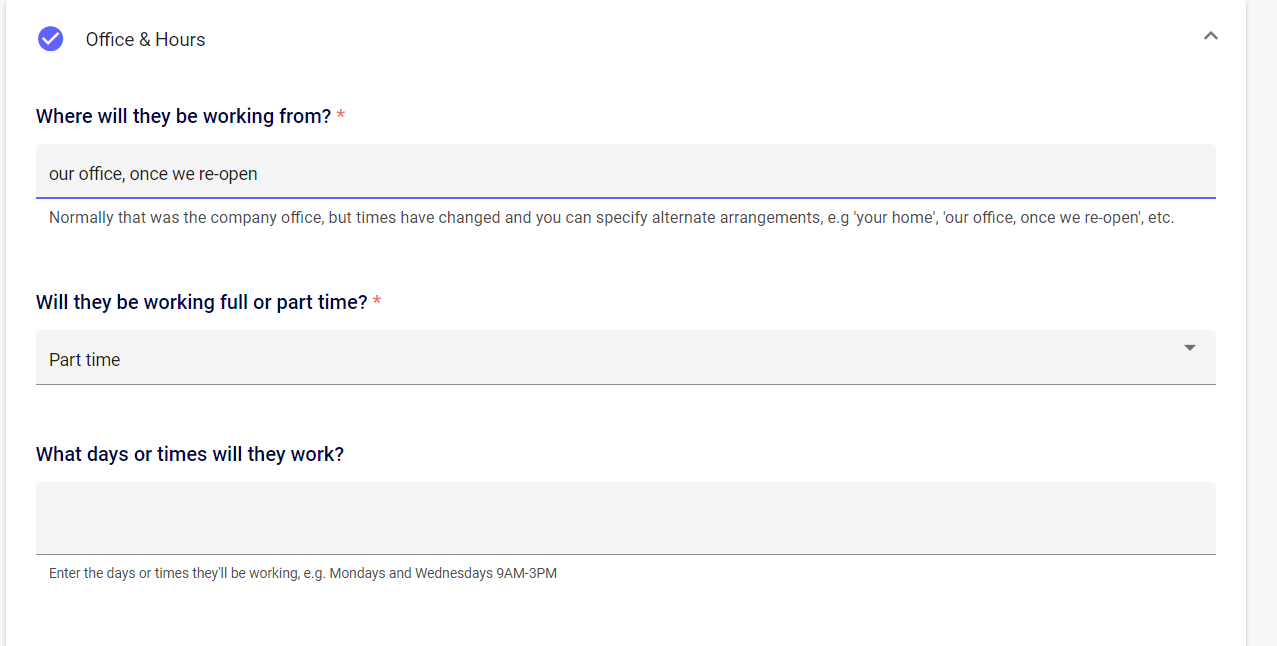 Zero hour contract
Currently the term 'casual worker' is not defined in employment law and can often lead to confusion on employment status for the employee and employer. The lack of legal definition means that the status of the worker often depends on the arrangement of the contract. The nature of employment must be established before employment commences.
A zero hour contract is for businesses that need workers on a casual basis, where the work is likely to be unpredictable, reactive and/or irregular. You could also consider the use of agency staff instead. In this type of contract, the worker provides a service to the employer and only receives pay for hours they work. The employer can then notify them of offers of work and they can choose whether to accept it or not as they aren't not obligated to do so.
Under a zero hour contract employers do not have to guarantee a set amount of hours, hence the term 'zero hours'. However, under the contract individuals may be obligated to carry out work when offered and pay will be in accordance to the amount of hours worked.
If there's no work to do zero hour contracts can remain in place, although this means the worker will have continuous service rights. It's worth pointing out that casual workers would also have the same statutory rights as a worker in employment law.
Our Zero Hour Contracts can be found in Agreements > Scroll to the bottom > Zero Hour Contract. When setting up the Zero Hour contract, it is important to think about the terms on which you will notify the casual workers of work opportunities - this can be decided between both parties of the contract :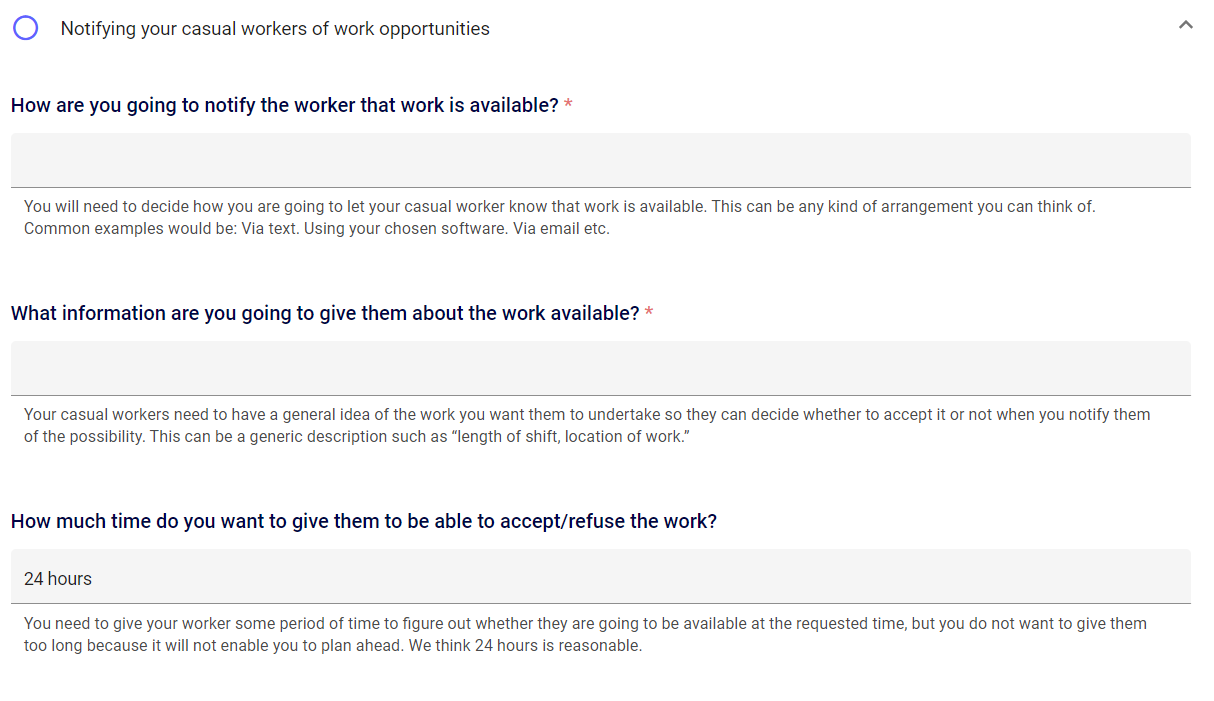 Flexible working
In June 2014 the rights to flexible working were extended giving all employees the statutory rights to request flexible working after 26 weeks of continuous employment.
This is not the right to work flexibly but rather the right to request flexible working. The employer has a duty to consider all requests reasonably.
Flexibility can be in terms of;
Place of work (requesting home working or another branch)

Times of work (changes to start and finish times)

Hours of work (reduction of hours)
For further information on flexible working including, the type of flexible work, applying and process please see here.
If you aren't sure which contract is the right one for a new individual you are hiring, please jump on the chat bubble and we can guide you through them.