How to compare documents on SeedLegals
Here's how to compare different versions of documents and track changes
The old days of emailing Word documents with redlined track changes are over, SeedLegals dynamically builds documents based on the deal terms you set.
But, sometimes your investors will ask for a redline compare, showing what's changed since the last version you sent them - here's an easy way to do that:
When you send documents to your investors to review, you can either invite them to SeedLegals, or download the document as a PDF and email it to them.





If you sent them a PDF, great, you now have that PDF ready to be used in future redline compares. Or, if you just sent them to SeedLegals to review the docs online, you might want to separately download each document as a PDF for yourself, in order to use it for comparisons later.

Once your documents have been downloaded, click on "My documents", then "Compare documents".





Upload the documents, then click on "Compare"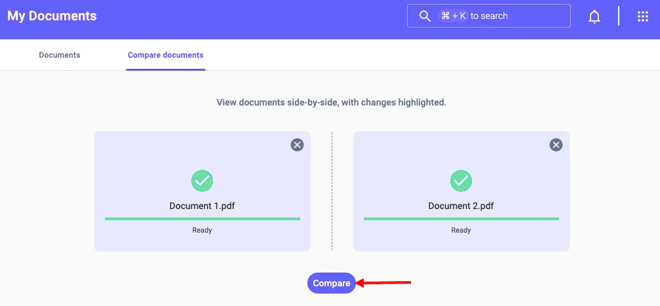 Once done, a new window will open showing the changes made from one document to another!
In case of doubt or difficulties please do reach out on the live chat on the bottom right corner of your screen - we're always happy to help!