Not sure whether you need additional permission from your investors and shareholders to top-up your round? Here's your answer!
Instant Investment is a great way of demonstrating 'agile' fundraising, as it enables you to get permission in advance to take additional investment up to an agreed amount until an agreed deadline without the need for additional permissions from investors and shareholders. This removes the need to circulate additional permission documents, such as Preemption or Investor Consent Notices. To carry this out, simply enable Instant Investment provisions within your current Funding Round. Once you've done this, you can use the Express Lane workflow at SeedLegals.
If you'd like to learn more about how to set up an Instant Investment, check out our step-by-step guide.
If you're unsure whether you enabled Instant Investment provisions within your previous Funding Round, head to your Round and check the Key Deal Terms:
These Key Deal Terms not only specify whether you can use the express lane, but also whether you are within the Instant Investment time and amount limit: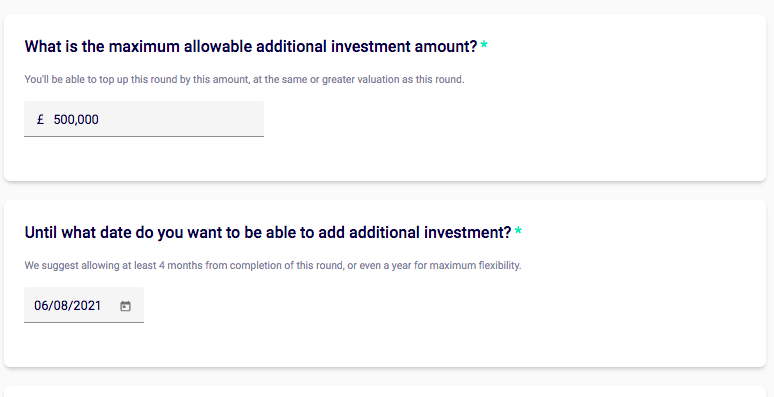 Furthermore, to ensure that preemption rights don't apply for these additional investments, ensure that you've specified this within the Key Deal Terms.
If you have completed all these steps, you can use Express Lane when creating your Instant Investment. To do this, select 'Yes' to the express lane question in your Key Deal Terms. This will remove the need for Preemption Notice, Previous Investor Consent, and Shareholders Resolution documents within the workflow.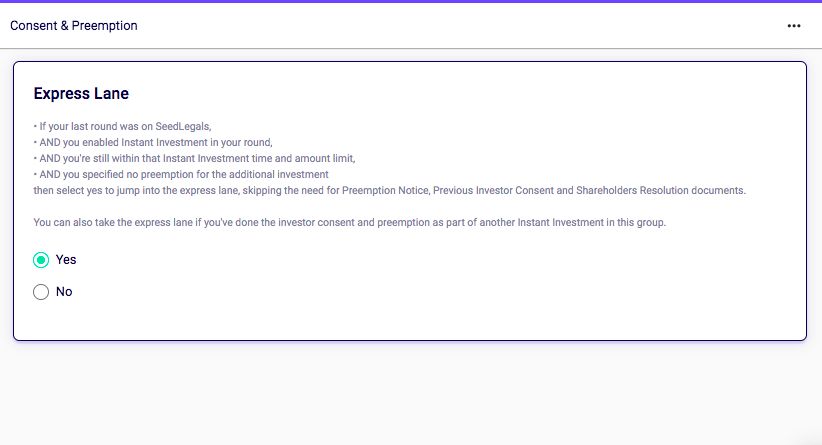 That being said, a Board Resolution is still required to authorize this investment.
Once that's all confirmed, and your agreements are fully signed, you can sign and file your SH01 form with Companies House and issue share certificates to your investors!
Make sure you take a look at this very useful guide on how to close your instant investment on the platform to make sure everything is signed and dated correctly, and here is a helpful guide on completing and filing your SH01 form.