Hiring a consultant as an individual or a company for a project? Here's how...
Need to hire a consultant? Our Consultancy Agreement makes that easy!
A consultancy agreement is an agreement between your company and anyone working for the company as a contractor and not a full-time company employee.
Consultancy agreements are used to engage people (contractors) working for your company who are not part of the executive team, long-term advisors, or employees.
They are mostly used for shorter-term engagements of a few months and they are not treated as employees, they don't go on the payroll and you do not pay National Insurance. You can even give the consultant shares or share options that vest over a period of time or on hitting specified milestones.
Our agreement outlines their roles and responsibilities, their invoicing and payment terms, and assigns any intellectual property they create while they are working for you to the company.
You can create a consultancy agreement on the platform with our Standard membership and Plus subscription - Create a Consultancy Agreement here.
Go to the 'Agreements' section and then Consultancy Agreement, choose 'Create New Agreement' and enter the details of the recipient.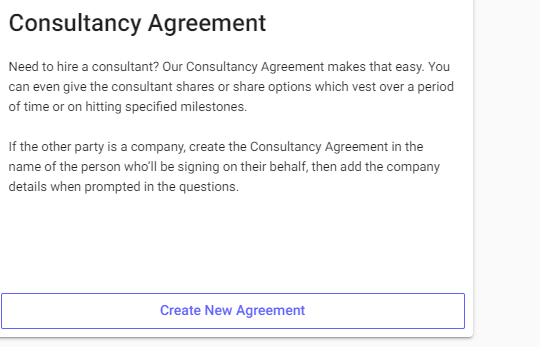 Then you'll be able to choose your terms and complete your Agreement!
Are you looking to create a Consultancy Agreement with a company? Not a problem!
If the other party is a company, first create the Consultancy Agreement in the name of the person who'll be signing on their behalf. After choosing the recipient, choose 'Company' and add the company details when prompted in the questions.

Choose your terms and make sure you have a tick in every box.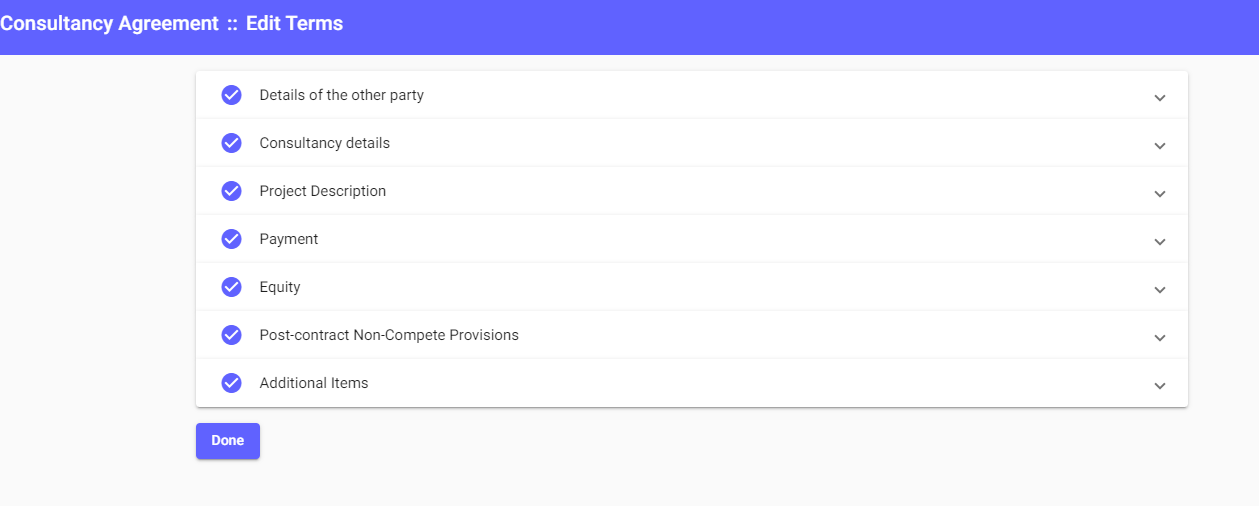 Finally, click 'Done' and you are all set up! Your Consultancy Agreement is ready!