After reviewing hundreds of valuation applications, the team has some tips on how to avoid the three most common mistakes.
1) Providing insufficient detail and not being specific enough
As each EMI Valuation is unique to a company, it is important that you provide sufficient detail that is specific to your company, so that it is less likely that HMRC will have to ask for more information.
For example, for each discount that is applicable to you, we recommend you add supporting details or evidence where applicable.




Take our Market Impact discount for example, it is important that your explanation is specific to your company and is as detailed as possible. As far as possible, any claims should be evidenced with data and explanations as to how it has affected your company specifically, as opposed to the market in general.


2) Not having the right accounts or balance sheet
It's really important to have the right set of accounts and a recent balance sheet or else HMRC might have some questions on your application.
For the accounts:
If you've been trading for 3 years or more, please provide the last three years' worth of accounts

If you've been trading for less than 3 years, then provide what you have

If you are pre-revenue, no need for accounts
If your last filed accounts are older than 9 months, then also include your most recent management accounts
For the balance sheet:
The more recent, the better - we suggest within 1-2 months from today

If you've had a recent investment round, then the balance sheet must be from after that round
3) Incorrect answers to these questions: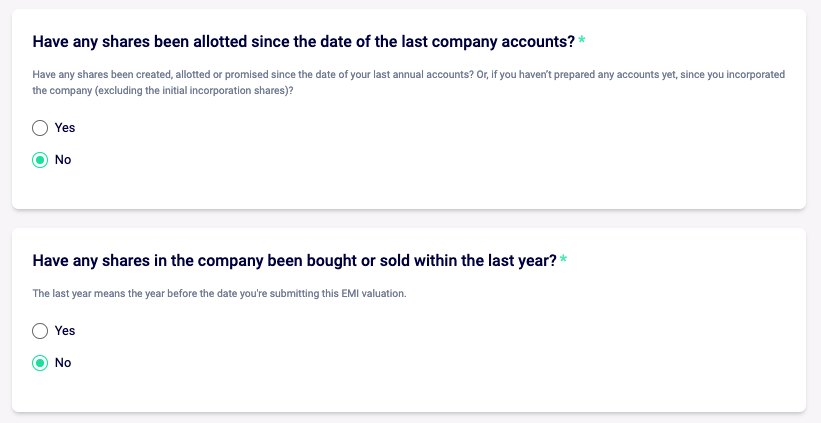 For the first question, please include share allotments that have occurred since your last company accounts were filed at Companies House.
These share allotments include investment rounds and other share issuances. Exclude share transfers.
The format should be: dd/mm/yyyy - x shares allotted for a price per share of £x.xx
The second question refers to any share transfers or share buybacks that have happened in the past year since the date of the application.